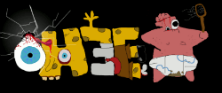 H33t, one of the largest BitTorrent sites on the Internet, suddenly disappeared three months ago. Initially the downtime caused confusion but it later transpired that the site's domain registrar, Germany-based Key-Systems, had removed H33T's nameservers.
A few days later TorrentFreak was able to confirm that the takedown was the result of legal action.
"We have indeed been served with a court order granting a temporary injunction requiring us to ensure certain content is not made available," Key System's Volker Greimann told TorrentFreak.
The injunction followed a complaint filed by Universal Music GMBH, a German division of Universal Music Group. It required Key-Systems to prevent the unauthorized distribution of Robin Thicke's album Blurred Lines via the H33T website and tracker. Key-Systems achieved that by deleting the site's DNS entries.
This blunt instrument approach by Key-Systems took down the entire site, something the registrar initially promised to fight by having the court order lifted. But for several months nothing more was heard and H33T remained offline.
This morning, however, H33T burst back to life, this time on the Tonga-based H33T.to domain.
"I have now given up ever regaining the .com domain," H33T's owner told TorrentFreak.
"I cannot keep the site off-line for any longer waiting for Key-Systems to make their promised appeal against the court order. The Internet moves at a living pace, websites die quickly if they are not on-line. Key-Systems is an Internet company so they know this."
H33T says that he was initially "totally up for a game of whack-a-mole" and even considered appearing in person to fight the injunction, but that might not have been the best option long-term.
"I was about to make the worst decision of my life by volunteering to go to the court in person. The court would regard as contempt any action to put the site up on any domain especially if it was beyond their reach. There would have been a feeding frenzy and the plaintiffs would enjoy the additional benefits of having personally identified me as H33T's operator."
Deciding against that course of action, H33T opted to remain patient in the hope that Key-Systems would make good on their promise of appeal. But things didn't go to plan.
"I was sincerely surprised to discover that there is a systemic prejudice against anything considered remotely 'pirate'," H33T explains.
"The prejudice is so thick as to appear like collusion between the plaintiffs, the courts and Key-Systems. How else can it be explained that a domain is seized on the matter of two links? The explanation is that there is a deeply held belief amongst a select group of operators that a torrent site is an illegal operation regardless of legal due process."
H33T says there is also a bigger picture, one in which an act in a single country – in this case Germany – can block global access to a site.
"The situation becomes absurd when we consider this is for a civil issue of rights to link to a work and not a criminal issue. The very act of making a complaint against a site is enough to destroy it," H33T concludes.
So for now H33T is back online with the aim of regaining as much of its lost traffic as possible. Time will tell if it can move back into the list of top 10 most-visited torrent sites, a position it held earlier this year.