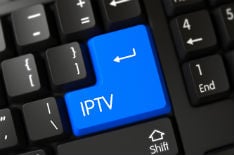 Members of the Alliance for Creativity and Entertainment (ACE), an anti-piracy coalition featuring Hollywood studios, Netflix, Amazon, and more than two dozen other companies, are targeting a large IPTV provider via the US courts.
Filed yesterday by Disney, Paramount, Amazon, Warner, Universal, Netflix, Columbia and StudioCanal, the lawsuit names TTKN Enterprises, LLC, better known online as IPTV service Crystal Clear Media (CCM). It further names Todd and Tori Smith of Florida as defendants and identifies the pair as the owners of TTKN and operators of CCM.
Massive and Ongoing Infringement
"Defendants own and operate the Crystal Clear Media service, an infringing streaming service that sells — directly and through an expanding network of resellers — unauthorized access to copyrighted movies and television programs through thousands of live and title-curated television channels (Internet Protocol television ('IPTV')) and video-on-demand ('VOD') offerings," the complaint reads.
"Defendants' title-curated channels stream the Copyrighted Works in packaged offerings that are not available through legitimate services. These offerings include, among many others, 24/7 marathons of Disney's movie Frozen II and Warner Bros.'s Harry Potter movie collection, newly-released movies including Paramount's Like a Boss and Columbia Picture's Bad Boys for Life, and enormously popular television series such as Universal's Mr. Robot."
The plaintiffs describe the defendants' ongoing infringement as willful, noting that they have engaged in "concerted efforts" to conceal their roles while profiting from their "blatantly infringing service", offered from websites including mediahosting.one, crystalcleariptv.com, ccmedia.one, ccbilling.org, cciptv.us, ccreborn.one, ccultimate.one, superstreamz.com, and webplayer.us.
The comprehensive VOD service offered by CCM appears to be central to the complaint. It's alleged that the defendants knew that offering VOD was a major security risk but went ahead anyway.
Warning Signs About VOD Were Ignored
In May 2019, TorrentFreak published an article revealing that the Vaders IPTV service had been taken offline. The complaint states that after this news broke, the defendants issued an urgent announcement, stating they would "BE ELIMINATING VOD, CATCHUP SERVICES, AND TV SERIES…IN LIGHT OF RECENT EVENTS."
However, the lawsuit says that despite noting the problems experienced by Vaders, VOD was still offered by CCM.
"Defendants did not stop their VOD offering. Instead, Defendants continue to sell subscriptions to their VOD service for $10 a month under the false label of 'Virtual Reality Gaming…Addon.' The Virtual Reality Gaming label is a deliberate effort to hide what Defendants are really providing," the entertainment companies state.
"Extensive and Expanding" Reseller Network
In common with many similar operations, CCM allegedly reaches its customer base by running a network of resellers who bulk buy "credits" from CCM. These are converted into subscriber login credentials when sold to customers looking to watch IPTV.
"Defendants' reseller program plays a pivotal role in their infringing enterprise. Defendants' resellers market and promote CCM as a substitute for authorized and licensed distributors," the lawsuit notes.
"If left unchecked, Defendants' infringing conduct will continue to grow. Defendants' network of resellers and subscribers will continue to expand, and with it the infringement of Plaintiffs' Copyrighted Works will grow exponentially."
Copyright Infringement Claims
Alleging willful direct copyright infringement, the plaintiffs demand the maximum statutory damages of $150,000 per infringed work and an injunction preventing the ongoing infringement.
In the event that the defendants claim that third-parties are directly violating the plaintiffs' rights, the lawsuit alleges contributory copyright infringement, since the defendants have "actual knowledge" that infringement is taking place in respect of the content being offered. Again, the maximum statutory damages of $150,000 per work are demanded.
The same sum is requested due to CCM inducing others by "encouraging, and promoting the use of CCM" for copyright infringement.
In addition to preliminary and permanent injunctions to effectively shut down the CCM service, the entertainment companies request that all resellers are prevented from offering its products to the public. They also want the platform's domain names and an eventual trial by jury.
The complaint is available here (pdf)