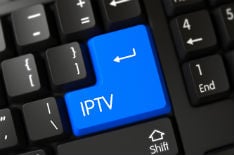 In addition to serving cease-and-desist notices on various players involved in the supply of pirated movies and TV shows, the Alliance for Creativity and Entertainment often takes matters a step further.
Mostly via copyright infringement lawsuits filed in the United States, the global anti-piracy coalition has accused several providers of acting outside the law, hoping to shut the services down and achieve a damages award or significant settlement.
Copyright Infringement Lawsuit Against CCM
During August, ACE sued pirate provider Crystal Clear Media (CCM) under its business name TTKN Enterprises LLC. It also named Todd and Tori Smith of Florida as defendants, identifying them as the operators of CCM.
A key feature of the case is the emphasis placed on so-called VOD content. While CCM and other providers tend to provide thousands of live TV channels, they also delivered so-called 24/7 channels (which reportedly offered "marathons of Disney's movie Frozen II and Warner Bros.'s Harry Potter movie collection") along with other mainstream movies on-demand.
According to the complaint, CCM knew this was a problem after ACE successfully shut down the Vaders IPTV platform last year. However, instead of backing away, CCM continued to provide access to video-on-demand while cultivating a network of resellers dedicated to servicing existing and prospective CCM customers.
Lawsuit Demands Injunctive Relief and Damages
The ultimate goals of the lawsuit against CCM are to win a permanent injunction to take it offline while obtaining a substantial damages award. With statutory damages running to $150,000 per title infringed, significant amounts are on the table.
In the first instance, however, the ACE members – including Disney, Paramount, Amazon, Netflix and others – sought a preliminary injunction with a number of key elements. That was comprehensively achieved via an order handed down by Judge George H. Wu in a California district court this week.
Preliminary Injunction
Addressing the plaintiffs' claims under 17 U.S.C. § 106 of the Copyright Act, Judge Wu ordered the defendants not to directly or secondarily infringe any of the rights owned or controlled by the plaintiffs in respect of their copyrighted works.
While that effectively prevents the CCM service from operating, the Judge also responded to requests from the plaintiffs to render unusable a wide range of domain names previously deployed by the IPTV provider.
"Except to as requested by Plaintiffs, Defendants shall not transfer or otherwise relinquish control to the domains: mediahosting.one, crystalcleariptv.com, ccmedia.one, ccbilling.org, cciptv.us, ccreborn.one, ccultimate.one, superstreamz.com and webplayer.us," the order reads.
Along those same lines, the Judge further ordered GoDaddy, One.com and their respective registrars to disable access to the above domains while preventing them from being modified, sold, transferred or deleted. The WHOIS information of the domains must also be preserved, including all contact and similar identifying information.
Additionally, the listed domain companies, plus all others receiving notice of the order, must preserve all evidence that may be used to identify the people that used the domains in question to infringe copyright.
Injunction Also Targets Resellers of the CCM Service
The original complaint alleges that CCM operated an "extensive and expanding" reseller network. These people bulk-bought "credits" from CCM that were converted to subscriber login credentials when purchased by customers.
"Defendants' reseller program plays a pivotal role in their infringing enterprise. Defendants' resellers market and promote CCM as a substitute for authorized and licensed distributors," the lawsuit claims.
After hearing that this expansion poses an exponential infringement threat, Judge Wu agreed that the network of sellers must also be prevented from operating. With that, he granted permission for the entertainment companies to complete service of process on anyone acting in concert with the defendants, including resellers of the service.
"Upon receipt of a copy of this Order, these individuals and entities shall cease directly or secondarily infringing any of Plaintiffs' Copyrighted Works through any means including publicly performing, reproducing, or otherwise infringing in any manner…any right under 17 U.S.C § 106 in any of Plaintiffs' Copyrighted Works by continuing to provide access to Defendants' service or by any other means," the Judge added.
While CCM is already believed to be out of action, the above paragraph indicates that if resellers of CCM are currently offering other IPTV packages from a different supplier that also offer illegal access to the plaintiffs' content, they must stop doing that too after receiving a copy of the order.
The preliminary injunction is available here (pdf)