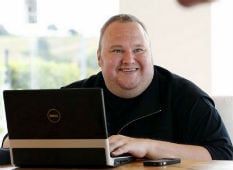 Whichever way you look at it, Kim Dotcom has a series of huge battles in front of him. Up soon is his fight to avoid extradition to the United States where he is wanted in the biggest copyright infringement case ever.
Running in parallel to that criminal case are a pair of civil actions brought by the MPAA and RIAA, with both entities currently attempting to put a lock on his currently frozen assets, should the entrepreneur get his hands on them again.
As those battles continue in the background, Dotcom is preparing his next steps, and he's calling on supporters to help him.
On the table today sits a cool $5 million bounty payable to anyone who provides substantial information that will allow the Megaupload founder to win his case. It's a large amount by any standards but of course Dotcom rarely does anything in half measures.
So what exactly is Dotcom looking for and how will the project play out?
"Let me be clear, we are asking for information that proves unlawful or corrupt conduct by the US government, the New Zealand government, spy agencies, law enforcement and Hollywood," Dotcom told TorrentFreak.
"It is the opinion of my legal team that disclosure of such information would be lawful. I would also guarantee that any whistleblower coming forward would have the best legal representation at zero cost."
Dotcom goes on to reiterate a long-standing claim, that the action against him and Megaupload was a "corrupt contract prosecution" carried out by the White House in order to get Hollywood's support for Obama's re-election campaign. He's interested in evidence that supports that assertion.
"Former Senator and now MPAA chairman Chris Dodd and Vice President Joe Biden in particular have abused their political power to make the pre-trial destruction of Megaupload possible," he explains.
"Joe Biden's personal counsel (while Biden was still a Senator) Neil MacBride was promoted to a top position at the DOJ and oversaw the Megaupload destruction. We have already exposed a whole range of unlawful government conduct in the Megaupload case, backed by court rulings."
So presuming people have information, what should they do with it? Dotcom suggests going to a well-known newspaper with a proven track-record in handling leaks.
"I have been in touch with the Guardian editor and he has kindly retweeted my offer and told me that he hopes that someone will reply to that offer," Dotcom says.
Dotcom notes that potential leakers can utilize the new whistleblower tool released by The Guardian this week. But for those who really need to cover their backs, more drastic additional steps could be taken.
"In order to be completely safe I would advise any Whistleblower not to use this tool from home or work. Go to an Internet cafe with a memory stick. Don't use your own computer or phone. You can also buy a cheap laptop or netbook just for the purpose of leaking and destroy it after you're done."
The big attraction of course is the $5 million Dotcom has put on the table. What assurances can Dotcom provide concerning the cash?
"I'm currently in talks with my legal team about how to formalize the bounty. We will probably setup a trust account to deposit the bounty and provide terms and conditions for anyone who will provide information. I will not just offer a bounty for the piece of 'case winning' information but for anything useful," he explains.
"We know that there are people out there with information. I'm willing to pay for that information. I'm determined to fight a grave injustice that has been done to a legitimate cloud storage business, its 220 employees and over 100 million users. This struggle has just begun and it will take time. But in the end we shall be victorious and we shall expose those who have abused their power," he concludes.
There's little doubt that $5 million is potentially a life-changing sum for the right person.. Will someone step forward into that new life? Time will tell.