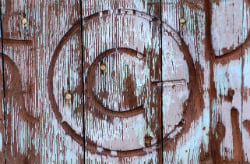 The pro-copyright lobbies are the best organised in the world. Second only to the tobacco lobby. They gather up employees and contractors and tell them real people and real internet users are bad people who want to harm them.
When I was in the Parliament, I was at one time visited by a young mother of two who wondered why I was trying to put her children without food or education on the streets. She was a script-writer for tax-payer-financed French-German TV station ARTE.
Even if I understand that her wages don't come from copyright licenses, even indirectly, and even if she appeared not to have thought of that, it was uncomfortable to be accused of harming someone else's children.
Had I not been 10 years younger than her, and convinced that there are ways for her to make money that don't include destroying the internet or putting file-sharers out of their homes, I may have opted to change my political opinion because of her heartfelt accusation.
Many individuals like her are currently visiting our legislators. Many politicians are presently being accused of harming children should they consider progressive copyright proposals.
What these politicians aren't hearing, are the stories of those people who get cease-and-desist letters, get sued, or put through criminal trials or get handed damages so large they can't reasonably be paid off in a life-time by a single individual. They're not hearing the stories of those who've built networks for millions of Europeans where, for want of better words, cultural affinity arises.
File-sharing and peer-to-peer culture, like no other culture in modern times, has created a common cultural base in Europe. Although I hope that even without my idealistic formulation of these matters, you're all convinced copyright at least somehow needs to change.
Politics too often gets stuck in the realm of the possible. It is possible that a 35-year-old mother could have her income impacted by a legislative reform that in no way influences her employer. It is not possible, but real, that many individuals in the European Union every year are caused heavy, even impossible, costs due to file-sharing trials and cease-and-desist letters.
It is not possible, but real, that copyright laws are increasingly forcing technology companies to innovate to the disadvantage of the freedom of the users.
The European Parliament needs to be taken back down to reality, and away from the realm of possible dangers before June 16th.
If you are presently in the European Union, or if you can reach out people in the European Union, in any way at all: this is the time to ask them to contact their representatives in the European Parliament. Tell the Members about yourselves, your lives, your children and the world in which you want to live. Give them a taste of the reality which exists away from the speculative possibilities of professional lobbies.
Whenever we're too tired or too scared to tell our politicians what is important, whoever has the resources will weave them stories of realms of possibilities instead. The future of copyright, and of all of the Internet, is too important to leave in the hands of such story-tellers.
Go to copywrongs.eu and figure out the specific demands you want to place to your MEP, but remember – your biggest asset is that you're real, and the lobby stories mostly aren't.
—
About The Author
Amelia Andersdotter represented the Swedish Pirate Party in the European Parliament between December 2011 and July 2014. She's an expert on topics related to the Internet, intellectual property and IT-policy.