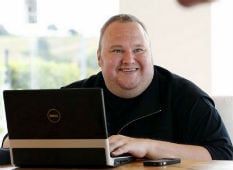 When authorities in the United States and New Zealand shut down Megaupload in 2012, large amounts of data were seized in both locations. The data in the US is currently gathering dust but over in New Zealand yet another storm is brewing.
In the weeks following the raid, hard drives seized from Dotcom in New Zealand were cloned and sent to the FBI in the United States. A judge later found that this should not have been allowed, ruling that the copies in the FBI's possession must be destroyed.
Like almost every process in the Megaupload saga the ruling went to appeal and in 2014 Dotcom won again, with the Court of Appeal upholding the lower court's decision, stating that the removal of the clones to the United States was "plainly not authorized."
At the time Dotcom said that fighting back is "encoded in his DNA" and today he's taking that fight to the FBI. On Sunday, FBI director James Comey touched down in Queenstown, New Zealand, for an intelligence conference. With Comey in the country, Dotcom seized the moment to file a complaint with local police.
In the complaint shared with TorrentFreak, lawyer Simon Cogan draws police attention to the Court of Appeal ruling determining that clones of Dotcom drives were unlawfully shipped to the FBI in the United States. Since Comey is in the country, police should take the opportunity to urgently interview him over this potential criminal matter.
"As director of the FBI, Mr Comey will be able to assist Police with their investigation of the matters raised in Mr Dotcom's complaint," the complaint reads, noting several key areas of interest as detailed below.
Speaking with TF, Dotcom says that since the New Zealand High Court and Court of Appeal have both ruled that the FBI had no authority to remove his data from New Zealand, the FBI acted unlawfully.
"In simple terms the FBI has committed theft," Dotcom says.
"The NZ courts don't have jurisdiction in the US and could therefore not assist me in getting my data back. But FBI Director Comey has just arrived in New Zealand for a conference meaning he is in the jurisdiction of NZ courts. We have asked the NZ police to question Mr Comey about the theft and to investigate."
In addition to seeking assistance from the police, Dotcom says that he's also initiated a new lawsuit to have his data returned.
"We have also launched a separate civil court action to force Mr Comey to return my data to New Zealand and to erase any and all copies the FBI / US Govt holds. We expect an urgent hearing of the matter in the High Court tomorrow," Dotcom concludes.
It's likely that this will be another Dotcom saga that will run and run, but despite the seriousness of the matter in hand, Dotcom was happy to take to Twitter this morning, delivering a video message in his own inimitable style.
In your face Comey, in your face! #FVEY #Queenstown #FBIThieves pic.twitter.com/aJb5MrHKWe

— Kim Dotcom (@KimDotcom) 25 April 2017