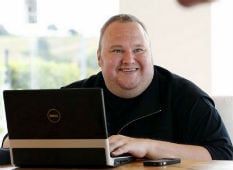 Three-and-a-half years ago dozens of armed officers and a police helicopter descended on Kim Dotcom's mansion in New Zealand, arresting him and colleagues Mathias Ortmann, Finn Batato and Bram van der Kolk.
The raid was carried out by local authorities at the behest of the United States government, who claim that Dotcom and his co-accused masterminded Megaupload, the defunct file-hosting site now at the center of a massive copyright infringement and money laundering case.
Ever since, Dotcom and his former colleagues have been fighting extradition to the United States. To date their extradition hearing has been delayed ten times but this morning it finally got underway.
Dotcom arrived at court dressed head to foot in his trademark black attire. According to local news reports he was allowed to bring his own padded leather chair following a request to alleviate back pain during what will be a lengthy hearing.
Dotcom is hoping the hearing is rather shorter, however. After expressing "cautious optimism" last Friday, the hearing got underway this morning before Auckland District Court Judge Nevin Dawson.
Judge Dawson heard submissions on what evidence is admissible in court and the order in which it should be heard. As expected the hearing almost immediately became bogged down in complex legal argument.
An issue that has raised its head repeatedly is that due to the United States seizing all of Dotcom's and his co-defendants' funds, the four have not had access to adequate tools to mount a proper defense.
"Court orders made by New Zealand courts and Hong Kong courts have been frustrated by a deliberate tactical decision by the US to stop us accessing expertise that we need," said Ortmann's barrister Grant Illingworth.
Also at issue is the amount of time Dotcom's new legal team has had to prepare. His new counsel has only been in place for a matter of months after his old representation inexplicably dropped out.
Aiming for a day one victory, the defense argued for a suspension so that various submissions can be heard before the extradition hearing begins. But U.S. authorities countered by insisting those applications should be part of the hearing or, failing that, included at trial in the United States.
"The issue at this stage isn't whether they will have a fair trial when they are extradited, but whether they will have a fair extradition hearing," Ortmann's barrister said.
Only fittingly for what has been dubbed the largest copyright infringement case of all time, this morning Dotcom's lawyer Ron Mansfield pointed out that under New Zealand copyright law, no criminal copyright offenses had been committed by Dotcom. As a service provider, Megaupload would have received 'safe harbor' protections.
However, Judge Dawson appeared to dismiss the claim, noting that the extradition application was being brought on the basis that the defendants had breached laws in the United States, not those in New Zealand.
While that is the case, a witness report submitted last week by copyright expert Professor Lawrence Lessig found that the defendants had committed no crimes under U.S. law either. The merits of that report will be considered later in the hearing.
Taking to Twitter before today's session, Dotcom said much was at stake.
"This case is not just about me. This case is about how much control we allow US corporations and the US government to have over the Internet," he wrote.
"The judges on this case can become the champions for billions of Internet users or a handful of US content billionaires."
Judge Dawson reserved his decision on the order of proceedings but what he won't have to decide is whether or not Dotcom and his co-defendants are guilty. His ruling will only consider whether the quartet should be sent to the United States to face trial.
If Judge Dawson doesn't grant an immediate suspension as requested by the defense, the hearing will continue this Thursday and is expected to run for four weeks.
But even when his ultimate decision is made public, that almost certainly won't mark the end of the case. Appeal options are available to both sides and could see the case head off to both the High and Supreme Courts. That could take another two years.
None of this comes cheap. According to an investigation carried out by NZHerald, thus far local taxpayers have already footed the bill for 29,344 hours of legal work spent on the Megaupload case, work that cost a cool NZ$5.8 million. Two-thirds of that amount has been spent on the extradition case.