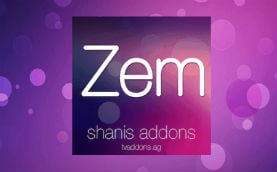 Last year, American satellite and broadcast provider Dish Network targeted two well-known players in the third-party Kodi add-on ecosystem.
In a complaint filed in a federal court in Texas, add-on ZemTV and the TVAddons library were accused of copyright infringement, with both facing up to $150,000 for each offense.
While TVAddons operator Adam Lackman responded to the allegations last week, ZemTV's developer 'Shani' decided not to reply.
Shahjahan Durrani, Shani for short, never denied that he was the driving force behind the Kodi-addons ZemTV, LiveStreamsPro, and F4MProxy. While the London-based developer had never set foot in Texas, he initially planned to put up a defense. Financially, however, this was a problem.
ZemTV's developer launched a fundraiser last fall to crowdsource the legal battle. While he was able to raise close to £1,000, the legal costs already exceeded that the case even got fully underway.
Without the ability to pay the legal costs Shani is unable to put up a proper defense. But speaking with TorrentFreak, he explains that after the motion to dismiss was denied, he didn't have much hope for a fair trial anyway.
"I was shocked and disappointed, not only by reading that the court dismissed my jurisdiction appeal, they did so with just one sentence. It seems unfair and doesn't give any confidence to me that the court/judge would be fair," Shani tells us.
This left the developer with two options. Find a way to fund the legal battle, money which may never be recovered, or give up the fight and face a default judgment. Shani chose the latter option.
Shani told his attorney Erin Russel to cease all activity on the case and to take no further steps on his behalf.
"I don't have enough resources to fight this case completely with four kids that I am raising and anything more I do will be seem to be submitting to the US Courts which I am not going to do unless I have enough money to fight the case," the developer wrote in an email to Russel.
The attorney informed the court of this decision late last week and withdrew from the case.
This means that the lawsuit is steering towards a default judgment, and indeed, Dish has already moved for an entry of default.
"To date, Durrani has not filed an answer or other responsive pleading or requested additional time to do so," Dish's motion reads. "Accordingly, the Clerk should enter a default against Durrani."
Shani still hopes that Dish will not push through. The developer stresses that he never operated any of the servers that provided copyright-infringing streams, nor has he ever made money from his addons.
"I hope they would let the matter go as the addon code has been taken down for more than a year now. Plus, they already know by the return of the subpoena to the servers that none of them were handled or paid by me," Shani says.
"This was an open source addon and no one would pay hundreds of pounds to host the servers/streams in the hope that people would donate. I actually never ever asked for any donation and never ever earned a single penny from Kodi addons."
ZemTV, like many other addons, merely offered the interface that makes it possible to watch third-party streams on the Kodi platform. While that may be infringement or not, the developer notes that despite the lawsuit, these third-party streams are still online.
"The irony of all this mess is that those servers and apps are still functional and working while I am dealing with this illogical case," Shani concludes.
If the Texas District Court enters the default, Dish will demand a judgment which likely includes thousands of dollars in damages. However, since Durrani lives in the UK and has no assets in the US, these damages may be hard to recoup.
—
Dish's request for an entry of default is available here (pdf).