With millions of fans all over the world, Spanish football league 'La Liga' is one of the most popular in the game.
In common with similar sports organizations, La Liga has a dedicated anti-piracy team that actively tracks and reports unauthorized live streams.
This sounds like a straightforward task but, in reality, it often turns into a perpetual stream of takedown notices. After all, the operators of piracy sites and apps have no intention of abiding by the law and pull out all the stops to avoid getting caught.
La Liga vs. Nodito
A recent takedown notice from La Liga illustrates this problem quite well. A few days ago the league sent a takedown notice to GitHub, asking it to remove an APK file that belongs to the user Nodoapps, known for the Spanish football streaming app Nodito.
"The National Professional Football League has among its main objectives the fight against piracy in the digital environment, in particular, the protection of its rights and those of its member clubs, and spends enormous human and technological resources to detect such misuse," the notice starts.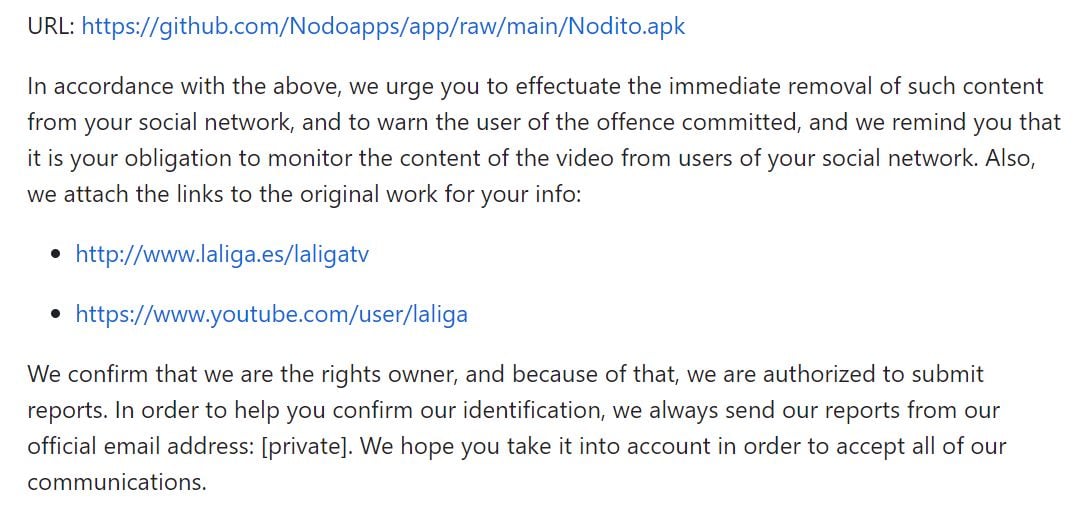 La Liga explains that since the app links to live streams of First and Second Division games published without permission, GitHub should take the code offline.
"This user does not have any right to this type of links with illegal broadcasts, so the conduct described supposes a violation of said exploitation rights of audiovisual content of the National League Championship in its First and Second Divisions."
The takedown notice was effective in the sense that GitHub acted swiftly. As a result, people who try to download the APK file through that link now see a 404 error instead. That doesn't really solve the problem though.
New GitHub Link
Soon after the above-mentioned URL was reported and disabled, the same user began promoting a new GitHub download link through Nodoapps' official linktree page. Simply putting the APK file in a 'gg' subfolder did the trick.
La Liga's anti-piracy team is likely be aware of this and will probably send a new takedown notice to GitHub, asking the company to take this down as well. But even if all piracy was eliminated from GitHub overnight, the problem isn't going away.
By now, the Nodito app is being shared all over the web on dedicated APK-sharing sites. The developers also posted a copy on Google Drive, which will likely be updated to a new URL once it's removed.
Whack-A-Mole
The above shows how difficult it can be to effectively take down a pirate streaming app that doesn't rely on a single domain. In fact, the developers have previously shown that they don't mind rebranding the entire app if the situation calls for it.
Nodito isn't the first streaming tool Nodoapps released. The software was previously known as "NogoGO," until its site was hit by a DMCA takedown notice.
"We wanted to inform you that access to the NodoGO site has been removed due to a DMCA problem. As a result, the app disappeared and it's no longer accessible to any user," Nodoapps announced two weeks ago
"That is why we have had to create a new application called NODITO […] that we will share in our social networks," the team added.
And indeed, in addition to the download options listed at Linktree, Nodoapps also promotes download options for the APK file on its official Telegram channel, Instagram, Twitter, and elsewhere.
Scammers Enter the Game
By now, the Nodito brand has taken on a life of its own, which can make it hard to spot which versions are official and which aren't. This provides an opportunity for scammers to enter the game, and indeed, an unofficial "Nodito" made its way to the Google Play Store recently.
This app has been downloaded over 10,000 times in just a few days but according to Nodoapps' official developers, it should be avoided at all costs.
"It is a scam, they ask for your phone number to 'supposedly' verify themselves but all they do is send you SMS. All they do is take advantage of Nodito's name," Nodoapps writes.
These types of scams are hard to avoid. Nodoapps knows from experience that sending a takedown notice may temporarily solve the problem, but dealing with scammers is a game of whack-a-mole too.