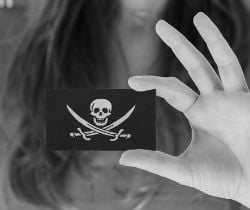 Following successful prosecutions of torrent site operators such as those behind The Pirate Bay, Sweden has turned to the increasing problem of online streaming.
Cases involving streaming sites are relatively rare and as a result, case law is thin on the ground. Nevertheless, last year Swedish authorities felt confident enough to close down the country's most popular streaming site.
Founded half a decade ago, Swefilmer took advantage of increasing trends towards browser-based viewing of pirate content. In addition to convenience and a non-existent learning curve, advanced users were also attracted to the perceived security benefits of streaming platforms.
Swefilmer gained significant traction but that came to an end last summer when one of the site's operators was arrested and detained for 90 hours.
That was followed this year by the detention of the site's main operator in Germany, following the execution of a secret European arrest warrant.
As reported last week, the men – aged 22 and 25 – were recently prosecuted. Together they face charges of facilitating copyright infringement of more than 1,400 movies alongside penalties of $1.7m.
Swefilmer's primary operator also stands accused of aggravated money laundering offenses related to his handling of the site's finances.
The Swefilmer case is one of the most important prosecutions in Sweden's piracy crackdown history and this week the trial began as planned. Entertainment giants including Disney, Sony, Warner, Universal and Fox lined up Tuesday to take down their adversaries, but things didn't go to plan.
Rather than the relatively open-and-shut case anticipated by the prosecution, after just a few hours a decision was made to suspend the case.
"We asked the court to seek a preliminary ruling from the European Court of Justice, and we got what we wanted," says Claes Kennedy, the lawyer representing the 22-year-old.
While Kennedy's client admits to having been involved in the operation of Swefilmer, all along he has maintained that his actions did not amount to a crime. Why that might indeed be true lies in a case currently in the hands of the ECJ.
The case deals with a dispute between Dutch blog GeenStijl.nl and Playboy. In 2011, GeenStijl published a post linking to leaked Playboy photos, which were stored on file-hosting platform FileFactory.
Although Playboy publisher Sanoma successfully requested the removal of the photos from FileFactory, GeenStijl continued to link to other public sources where the images were still available. This, Sanoma argued, amounted to infringement.
A Dutch Court subsequently asked the EU Court of Justice to rule whether those links could be seen as a 'communication to the public' under Article 3(1) of the Copyright Directive of the Copyright Directive, and whether they facilitated copyright infringement.
Earlier this year, Advocate General Melchior Wathelet delivered his advice to the ECJ, noting that in his opinion "linking" is not the same as "making available" – that would only apply to the original uploader. That means that GeenStijl's acts of linking would not amount to infringement, the ECJ summarized.
"Hyperlinks which lead, even directly, to protected works are not 'making them available' to the public when they are already freely accessible on another website, and only serve to facilitate their discovery," the EU Court of Justice wrote.
The Advocate General's advice is not binding, but the ECJ often gives significant weight to this kind of expert opinion. The final verdict is expected to be released later this year and Claes Kennedy is hoping for a positive outcome for his client.
"What we know so far, is that linking to another website is not to be considered the same as making available to the public. But we are waiting for a decision from the EU Court," Kennedy says.
So for now the Swefilmer trial is on hold, initially until September but potentially later depending on when the ECJ hands down its ruling. Whenever it arrives the decision will have implications way beyond this case and right across Europe.