While Europe and the United States have been targets for copyright trolls for the last few years, Canada has largely escaped attention. But with the activity now beginning to spread and a test-case of sorts underway, an anti-piracy company warns it has a "long list" of clients ready to claim file-sharing settlements from Canadians.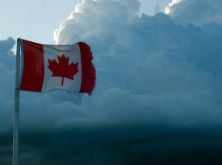 As previously reported, Canadian ISP Teksavvy is in the middle of a copyright infringement battle involving many of its customers. US-based Voltage Pictures say that Teksavvy users downloaded and shared their movies without permission and should be held accountable under the law.
Of course, Voltage only want to utilize the law up to a point. Their main aim is to obtain the identities of the accused individuals so they may be contacted and asked to settle for a few thousand dollars. The case, which was paused for opinions earlier this year, is due to resume next month.
According to Canipre, the anti-piracy company working with Voltage to track alleged infringers, a lot depends on the outcome.
"We have a long list of clients waiting to go to court," says Canipre managing director Barry Logan.
"We understand the culture of piracy. We're bringing that model up here as a means to change social attitudes toward downloading."
Not to mention generating plenty of cash for the trolls involved.