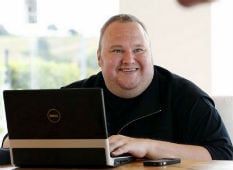 Following a few hints dropped early last month, Kim Dotcom later confirmed he was working on a brand new file-sharing platform with a familiar name.
Now partially confirmed as Megaupload (or possibly Megaupload 2.0), the site is set to launch in January 2017, an event that will coincide with the 2012 closure of the original site and the massive police raid against its operators.
Over the past few days Dotcom has taken to Twitter to drip feed various nuggets of information about his upcoming service. The first came on Tuesday when he said that he couldn't wait to launch "groundbreaking innovations" that will take Bitcoin "mainstream."
After concentrating on his usual array of political tweets, a few hours ago Dotcom stepped on the Megaupload gas, underlining its links to Bitcoin.
Every #Megaupload file transfer will be linked to a tiny #Bitcoin micro transaction. Get ready for Bitcache. pic.twitter.com/0viV2sJ9ax

— Kim Dotcom (@KimDotcom) August 5, 2016
The suggestion that there will be currency changing hands for people sharing files using Megaupload 2.0 is certainly an intriguing one. Dotcom previously said the site will launch with Megaupload 1.0's user database, which could amount to 100 million users. That's a lot of users, a lot of files, and potentially lots of money.
The term 'Bitcache' also raises questions. A project of the same name already exists but Dotcom appears to have something else in mind.
"Nobody will upload to any other cloud after Megaupload's Bitcache goes live. 100 million Bitcache wallets," he said this morning.
For now, Dotcom doesn't seem interested in revealing solid information about Bitcache. However, in response to a user who asked whether Dotcom had considered Bitcoin's block size issues, the German suggested that 'bitcache' would solve the problem.
@CryptoGambleh The 'cache' in Bitcache solves the problem. It eliminates all blockchain limitations. Wait for it :-)

— Kim Dotcom (@KimDotcom) August 5, 2016
The links between the under-development file-sharing platform and Bitcoin are clearly ones Dotcom is keen to promote. The entrepreneur often suggests that his followers should invest in this, or avoid that, but this morning his message was clear. Buy Bitcoin. Now.
"Buy Bitcoin while cheap. Like right now. Trust me," he said. "Bitcoin = $2000+ 2017."
Further details will be revealed on January 20, 2017, during the launch of Megaupload 2.0, an event that is already developing an interesting guest list.
This morning, financial journalist and guru Max Keiser said he will be in attendance, declaring the project "Big news for Bitcoin."
Also of interest is new information which suggests that developers will be able to build their open projects using the cloud-storage features of Dotcom's new platform.
"Megaupload 2.0 will be available 'white label'. You can use any domain, free of charge, for your cloud sharing needs. Bitcache enabled," he adds.
The launch date for Megaupload 2.0 is a little over five months away so Dotcom and those collaborating with him certainly have their work cut out if they are to deliver as promised. That being said, if they can pull this rabbit out of the hat it could be the shot in the arm the file-sharing world has been longing for.
"Megaupload 2.0 takes decentralization, anonymity & encryption to the next level. A nightmare for those who want to mass surveil & censor," Dotcom concludes.