With a self-proclaimed 50 million users a day, MegaUpload was one of the largest file-hosting sites on the Internet.
Last week the feds shut down the popular site accusing its founder and six others of money-laundering and several copyright related crimes. The site's former users, meanwhile, are left without their files and forced to find a new place to share.
The big question is, where do these millions of people go now?
The RIAA hopes that the people who used MegaUpload to share copyrighted music are turning to iTunes, but this is not the case for everyone. A look at the traffic of some of the MegaUpload alternatives shows that millions have simply migrated to other file-hosting sites.
The graph below shows a sharp increase in traffic for four popular MegaUpload 'replacements' since last week. Based on data from various traffic measurement sites, Depositfiles, Uploaded.to, Hotfile and Rapidshare welcomed hundreds of thousands of extra visitors.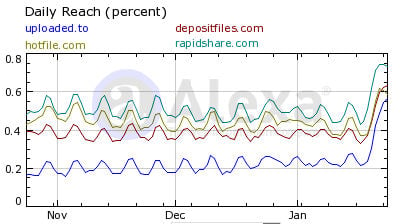 The example above is just the tip of the iceberg, as there are many other sites that experienced a surge in traffic including Filepost, Hulkshare, Netload.in, Uploading, zShare.net and many others. Whether the newcomers will remain on board has yet to be seen, but it is clear that millions of former MegaUpload users are migrating to other sites.
As the cyberlocker landscape stands now, 4shared.com remains by far the largest site on the Internet. With an estimated 2.5 billion page views, 4Shared is more than twice the size of MegaUpload before it was shut down.
Needless to say, 4Shared is deeply concerned about the recent developments, but the company also told TorrentFreak that they have nothing to worry about themselves.
"This case has a great negative impact on file storage services and the Internet overall," a spokesman said, adding that "4shared has some of the most strict house rules among all other file storage services and there's no need for any changes."
With many sites still in a state of shock, it might take a few weeks to see what the precise effect of the MegaUpload shutdown is. One thing is for sure though, many of MegaUpload's former users haven't given up downloading and sharing just yet.