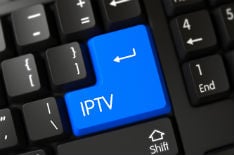 Founded way back in 2008, ATN (Advanced TV Network) was an IPTV business in Sweden supplying more than a thousand TV channels to customers via the Internet.
The company was incorporated, paid its taxes, and in 2013 generated around $7m in sales with a decent profit margin. In 2016, however, ATN was raided by the police and its operators were eventually charged with copyright infringement offenses for distributing unlicensed TV, among other things.
ATN Operators Sentenced to Prison
In 2018, the Stockholm Patent and Market court found three operators of ATN guilty of copyright infringement and other offenses. ATN owner Hamid al-Hamid was sentenced to two and a half years in prison. His son and another accomplice both received one-year prison sentences. In addition, they were ordered to pay over 209 million Swedish kroner (then $24m) in damages to rightsholders.
According to a lawsuit filed by broadcaster DISH Network this week, ATN is now based in the United Arab Emirates and through distribution partners, is currently doing illegal business in the United States. DISH is hoping to shut these partners down and obtain substantial damages, alleging that they breach the broadcaster's copyrights.
Lawsuit Targets Sellers/Partners of ATN in United States
According to a new lawsuit filed in a Florida district court, Alfa TV Inc. is operated in the United States by a number of individuals associated with ATN. Florida resident Hisham Manse Ibrahem is the company's president, Haitham Mansi is its vice-president, Nezar Saeed Hammo is Alfa's marketing manager, and Mohammed Abu Oun acts as general manager. All are named defendants.
The complaint alleges that the men and Alfa TV Inc. together do business as ElafnetTV, a 'pirate' IPTV service that provides access to the ATN service to customers in the United States. Documentation cited by DISH has ElafnetTV marketing itself as the official distributor of ATN in the country.
"Defendants continued to distribute the ATN/Elafnet Service to customers in the United States, even after the 2016 raid and 2018 criminal convictions against ATN's operators, and to this day refer to ElafnetTV as the 'Biggest Arabic IPTV Provider in the World'," the lawsuit reads.
"Defendants demonstrated the willfulness of their copyright infringement by continuing to distribute the ATN/Elafnet Service that provides unauthorized access to channels exclusively licensed to DISH, despite receiving numerous demands to cease and despite the criminal copyright convictions against ATN's operators."
"Long History of Willful Copyright Infringement"
The DISH lawsuit claims that Ibrahem, Mansi, plus a now-deceased individual launched ElafnetTV in 2010 with the aim of distributing the ATN service.
While the outfit has changed its business names a number of times (eventually ending up as Alfa TV Inc., DISH has been sending copyright infringement notices (more than 110 according to the lawsuit) to the defendants and the ATN service raided in Sweden since 2013. Indeed, DISH claims strong links between ATN and the defendants.
After sending a copyright infringement notice in 2015, ATN founder Hamid al-Hamid (who was later sentenced to prison in Sweden) stated that Alfa TV/ElafnetTV's Mansi was ATN's sales director in the United States, stating that a meeting could be arranged with DISH to "find a formula for cooperation".
"Defendants have a close relationship with ATN and al-Hamid. Hammo and al-Hamid are friends on Facebook and Mansi and al-Hamid appear together in photos posted to al-Hamid's Facebook account," the lawsuit adds.
"Despite the criminal convictions, ATN has continued to operate and Defendants likewise have continued to advertise, promote, sell, and distribute the ATN/Elafnet Service to customers in the United States, thereby providing them with access to the [DISH] Protected Channels."
Inducing and Materially Contributing to Copyright Infringement
According to DISH, ATN/Elafnet advertised their IPTV product as a means of accessing the company's channels and had actual knowledge that subscribers of the unlicensed service were breaching DISH's exclusive distribution and performance rights. The defendants could have taken "simple measures" to remove DISH content after receiving copyright complaints but chose not to, the broadcaster adds.
"Ibrahem, Mansi, Hammo, and Abuoun are jointly and severally liable for each act of infringement of Alfa TV because they personally directed, authorized, supervised, or participated in, and financially benefited from such infringing conduct as alleged herein," the complaint reads.
"Defendants' actions were willful, malicious, intentional, and purposeful, and in disregard of and with indifference to the rights of DISH."
Demands For Millions in Damages Plus Permanent Injunction
The DISH lawsuit demands $150,000 in statutory damages for at least 107 registered works infringed under 17 U.S.C. § 504(c) and an award for defendants' profits attributable to the infringement of unregistered works under 17 U.S.C. § 504(b). Together, these claims could easily run to several million dollars in overall damages.
In addition, DISH demands an order requiring the defendants to hand over their domain names to the broadcaster and the impoundment of all infringing articles under 17 U.S.C. § 503.
On top of attorneys' fees and costs, DISH also requests a permanent injunction, restraining the defendants and those acting in concert with them from transmitting, streaming, distributing or publicly performing its copyrighted content in the United States via the ATN/Elafnet service and/or any of the apps and processes associated with it.
The DISH complaint can be found here (pdf)