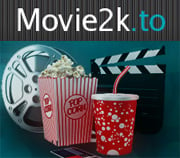 While the world's largest torrent indexes tend to grab most of the headlines, a relatively new range of sites have been scooping up huge numbers of users during the past few years.
Avoiding the relative complexity of torrent clients, streaming portals offer movies and TV shows in a YouTube-like environment, with video embedded in a page and ready to watch – no traditional downloading required.
Offering all the latest movies and TV shows for immediate viewing after just a couple of clicks, Movie2K was one of the most popular streaming sites around. Back in February it was the 240th most popular site in the world and in Germany ranked 19th, making it more popular than Twitter, Amazon, Apple, PayPal and Microsoft.
Movie2K – gone
However, on Wednesday Movie2K became unresponsive. We were first alerted to the problems by the operators of PirateReverse and ProxyBay, sites which set themselves up to reconnect users with Movie2K after the UK Hight Court ordered it blocked earlier this month.
Something was clearly wrong – Movie2K first began redirecting to Google and then later to 127.0.0.1. We emailed Movie2K immediately but after receiving no response we began asking questions elsewhere, starting with the site's former host.
Romanian host shut down Movie2K
Voxility is a Romanian-based company that houses quite a few file-sharing related websites. It is also the last known host of Movie2K so we wrote to the company and asked them what had happened to the site. Voxility failed to respond to our questions, but we weren't about to give up.
What we do know is that Movie2K had been doing business with Voxility for a long time using the IP address 109.163.226.18. The records for that IP address have now been changed and allocated away from Movie2K and back to 'reserved' status with Voxility.
We spoke with a person familiar with Voxility's operations who told us that 'reserved' indicates that the server has been canceled by the host and is no longer in use.
Was Movie2K raided or was the shutdown voluntary?
Ever since Movie2K disappeared earlier this week there have been rumors that the site (or its admin) had been raided. Most seem to be based around a statement last week by anti-piracy group GVU that a former top uploader to the now-defunct Kino.to had been raided in Germany.
The individual, said to be called "Hologram", is alleged to have uploaded more than 100,000 movies. GVU said that he was "cooperative" and later "confessed." The raid took place early on May 22 according to GVU, but TorrentFreak received an email later that evening from the Movie2K admin, so it seems moderately unlikely he was raided that same morning.
However, what we do know from a source inside Voxility is that the operator of Movie2K voluntarily closed down the server this week and canceled his business with Voxility. And in the past few minutes there are suggestions that there might indeed be some connection, not necessarily directly though, between the shutdown of Movie2K and the raid last week.
While stating that they don't really know why Movie2K has disappeared, GVU are suggesting that the site's operators may have seen the ongoing Kino.to investigation and decided that enough is enough. That's possible of course, but we still aren't finished.
Updated DNS entries –
Movie2K used to operate via many different domains such as .com and .net, but the prime URL for the site over the years has been Movie2K.to. Now, .to is the top-level domain (ccTLD) of the island kingdom of Tonga and is handled by the Tonic domain name registry.
Tonic have a policy of keeping domain registrants' information secret so there is no traditional WHOIS that will reveal names and addresses etc. There is however a limited search that can be done to find out DNS entries etc, which revealed something interesting. An update this morning…
Domain: movie2k.to
Created on: Tue Aug 31 05:07:54 2010
Last edited on: Fri May 31 08:28:53 2013
Expires on: Thu Aug 31 05:07:54 2017
Primary host add: 87.106.42.187
Primary host name: dns1.piratenpartei.de
Secondary host add: 62.48.67.66
Secondary host name: ns2.pop-hannover.net
Piraten Partei is the German Pirate Party and the addresses listed above certainly match the party's DNS server addresses. So, are they involved?
"We have nothing to do with this and our DNS servers do not serve this domain," Markus Drenger of the Pirate Party's press team told TorrentFreak.
So with the Pirate Party denying knowledge we will have to wait a short time to see what happens next with the Movie2K domain. Tonic update their nameservers once a day at (GMT +13) so the next move might become apparent then. However, . com updates sooner….
Movie2K is dead, long live…..Movie4K?
Visitors to Movie2K.com are now being redirected to a server in the Virgin Islands playing host to a new site called Movie4K. There's nothing there at the moment but there are signs that something might be about to burst into life. The DNS entries for that domain were updated last evening.
Domain: movie4k.to
Created on: Sat Dec 03 00:50:01 2011
Last edited on: Thu May 30 21:11:00 2013
Expires on: Sat Dec 03 00:50:01 2016
Primary host add: 89.32.145.101
Primary host name: pns1.cloudns.net
Secondary host add: 62.75.145.77
Secondary host name: pns2.cloudns.net
So will Movie2K reanimate itself into Movie4K this weekend and become fully operational once again? All the indications suggest that we won't have long to find out. In the meantime, GVU may have to put their champagne back on ice.
Update: Movie4k is now up and running. TorrentFreak is trying to talk to the operator of the site for a follow-up article. Stay tuned.