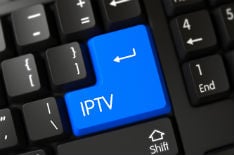 In December 2021, movie and TV giants Universal, Disney, Paramount, Warner and Columbia joined Netflix, Amazon, Apple and several other studios in a copyright infringement lawsuit against Texas resident Dwayne Anthony Johnson.
The plaintiffs alleged that Johnson (and Does 1-20) are the brains behind pirate IPTV providers AllAccessTV (AATV) and Quality Restreams. The latest in a growing line of copyright cases against similar platforms, the complaint alleged that the services supply infringing movies and TV shows via their IPTV and VOD platforms, breaching the studios' rights.
The claim for damages (statutory $150,000 per work) was accompanied by a request for an injunction to shut the platforms down.
Late January, Johnson's legal team argued against an injunction, claiming that such an order wasn't necessary since certain named domains were already down. In any event, they continued, the proposed injunction was 'deficient' while key evidence provided by MPA anti-piracy chief Jan van Voorn was labeled "biased" and "inaccurate". The evidence of Steve Kang, Vice President of Creative Content Protection at NBCUniversal Media, was also criticized.
Studios Respond
In a reply to the motion for preliminary injunction filed earlier this month, the studios begin by highlighting that despite the technicalities raised in Johnson's opposition, there was no attempt to dispute the fundamental basis for the court issuing an injunction.
They explain that the key arguments and evidence support their allegations that Johnson is involved with and doing business as AATV and Quality Restreams and that his "cherry-picked" criticisms only attempt to obfuscate that.
"[N]one of Defendant's misguided and meritless arguments do anything to undercut the fundamental need for an injunction that stops the mass-scale infringement occurring here," they write.
"Although Defendant attempts to poke holes in the sufficiency of Plaintiffs' evidence, he cannot (and does not) undercut the fundamental premise that he and his cohorts are operating an illegal streaming scheme."
The reply notes that Johnson is the registrant for allaccessiptv.com and myaatv.com, two domains associated with the AATV service. He is also the owner/manager of VPN Safe Vault LLC which through the domain backoffice.vpnsafevault.com, AATV subscriptions are sold. The studios also claim that Johnson is the creator and administrator of a private Facebook page (MediaBoxx Corporation) which services AATV resellers.
Furthermore, Johnson did not dispute that he created and fostered an "extensive network of resellers", instead claiming that he cannot be held liable for their conduct, despite the resellers utilizing Johnson's websites to sign up for his service. As for VPN Safe Vault, the studios say that the portal is still in operation and selling subscriptions to AATV services.
As for the claims of biased and inaccurate evidence from experts who are not independent, the studios brush all of the claims aside, adding that the evidence is both considered, substantial, and sufficient at this stage of the case.
For good measure, however, a supplemental declaration by MPA anti-piracy chief Jan van Voorn provides additional technical details on the AATV service. In any event, this is just a small part of the overall evidence the studios have amassed against Johnson, they add.
Joint Stipulation and Preliminary Injunction
Despite the apparent gap between the parties, late Thursday the parties told the court that they had agreed to the terms of a proposed preliminary injunction. This does not mean that Johnson is admitting liability, the parties stress. Neither does it mean he will accept the terms of any permanent injunction.
At a California district court, Judge André Birotte dealt with the matter quickly.
"Defendant Dwayne Anthony Johnson d/b/a AllAccessTV and Quality Restreams ('Defendant'), and all persons who are allegedly acting in active concert or participation with Defendant (collectively, the 'Enjoined Parties'), are hereby preliminary restrained and enjoined," he writes.
The order states that the enjoined parties shall not "directly or secondarily, publicly perform, copy, reproduce, distribute, stream, transmit, or otherwise infringe in any manner any of Plaintiffs' copyrighted works, or any other works whose copyrights are owned or exclusively controlled by Plaintiffs and/or their affiliates."
Neither will they "facilitate, induce, or contribute to the unauthorized reproduction and/or public performance of the Copyrighted Works by others."
No party is allowed to operate or do business in any way as AllAccessTV and Quality Restreams, including by operating any website, application, system, software, or service for purposes of providing unauthorized access to IPTV or VOID services to any person or entity.
The injunction also includes a list of domains that cannot be modified, sold, transferred or deleted. No changes can be made to WHOIS information, either by the defendant or registrars Namecheap and GoDaddy. Within five days, however, all domains must be parked. They read as follows:
aatvdigitalmedia.com, aatvpanel.com, aatvapp.live, myaatv.com, aatvdigital.com, aatvwebplayer.com, allaccessiptv.com, allaccesstv.live, tv.allaccesstv.live, vod.allaccesstv.live, kids.allaccesstv.live, aatv.media, qualityrestreams.com, qsplaylist.com, qualitystreamz.guru, qsprovider.com, mediaflo.net, and v2.dmdapi.com.
For good measure, just in case anyone gets any ideas, the enjoined parties may not engage in any action that has the effect of circumventing the requirements of the injunction.
Court documents referenced in this article can be found here (1,2,3, pdf)