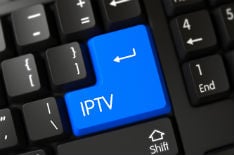 Despite an increasing number of lawsuits, raids and seizures around the world, many pirate IPTV providers and resellers continue to offer their services to the masses.
At least in part, this may be a calculation based on the likelihood of being targeted, let alone identified and held to account. Nevertheless, some of the most powerful entertainment companies in the world are continuously on the prowl, looking for operations of wider importance and/or representing lower-hanging fruit.
US-based IPTV providers AllAccessTV and Quality Restreams can now be added to this growing list.
Copyright Infringement Lawsuit
In a new complaint filed in a California court, movie and TV giants Universal, Disney, Paramount, Warner and Columbia are joined by Netflix, Amazon, Apple and several other studios against Texas resident Dwayne Anthony Johnson.
According to the plaintiffs, Johnson (and Does 1-20) are the brains behind pirate providers AllAccessTV (AATV) and Quality Restreams.
The complaint alleges that AATV offers infringing movies and TV shows via its IPTV and VOD services, delivering content including The Godfather, Harry Potter, Jurassic Park, and The Office to consumers via smart TVs, computers, set-top boxes plus mobile and tablet devices.
Connected enterprise Quality Restreams allegedly provides infringing content to other IPTV providers, including AATV, via live IPTV channels and a VOD service.
The AATV Operation
The studios list a number of domains in their complaint including aatvdigitalmedia.com, aatvpanel.com, allaccessiptv.com, qualityrestreams.com and mediaflo.net. Also of interest are domains linked to vpnsafevault.com.
According to the lawsuit, aatvdigitalmedia.com aatvpanel.com were previously used to supply subscriptions costing between $10 to $45 per month. However, in an effort to conceal the true nature of the business, AATV now uses vpnsafevault.com.
"This site is stripped of all AATV branding and designed to appear like it sells VPN software to consumers," the complaint notes, adding: "Defendants' actions are consistent with an intent to operate the AATV service in covert manner because they know the service is illegal."
Vast Quantity of Live Channels and VOD Content
Via the AATV platforms, it's alleged that more than 2,500 live TV channels including those owned by ABC, NBC, and Fox, as well as paid channels like A&E, MTV, BET, SyFy, USA Network, and premium channels such as HBO and Cinemax, are offered to consumers.
However, in common with similar lawsuits filed by the same companies in the past, it is AATV's 24/7 channels (those that offer video from a particular franchise on a continuous loop) that again help to build a solid base for the complaint.
"Defendants' 24/7 channels infringe not only Plaintiffs' exclusive right of public performance, but also their exclusive right to reproduce their Copyrighted Works. Plaintiffs' Copyrighted Works must be illegally copied and stored in order to be streamed on a 24/7 channel," the lawsuit reads.
"Defendants either create these copies, and as a result, directly infringe Plaintiffs' reproduction rights, or Defendants knowingly, materially contribute to, or induce third parties to make those copies, and thereby secondarily infringe Plaintiffs' exclusive reproduction rights."
The same claims are leveled against AATV's VOD service, which currently offers more than 600 movies and 600 TV series for on-demand viewing. These can be arranged not only by genre but by officially licensed providers including Netflix, Amazon Prime Video, Hulu, and Disney+.
"Defendants do not have licenses to utilize any Copyrighted Work through their VOD service and, therefore, Defendants' VOD service infringes Plaintiffs' exclusive reproduction and public performance rights," the studios add.
Quality Restreams Operation
According to the complaint, Quality Restreams has used a number of domains including qualityrestreams.com, qsplaylist.com, qualitystreamz.guru, and qsprovider.com, in order to stream and provide content to other IPTV services. One such service, CosmosTV, sourced its content from an IP address registered to FDC Servers in the United States.
The lawsuit also points to the mediaflo.net domain (which is reportedly used to supply IPTV content) and posts on IPTV forums including IPTV.community where Quality Restreams advertised their product under the name DJ_Boxx. This appears to have helped the studios connect the dots regarding the identity of the service's owner.
"Among other things, Johnson is a registered manager of VPN Safe Vault LLC, a company that bears a virtually identical name to the domain [vpnsafevault.com], the site through which Defendants currently sell AATV subscriptions. Moreover, the username DJ_Boxx is connected to the Skype ID 'Dwayne.johnson34,' and the listed date of birth on DJ_Boxx's profile also matches Johnson's date of birth," the complaint states.
Johnson is also said to be the registrant of myaatv.com at 23.237.94.34 — the same IP address used by qsplaylist.com. This IP address is in the same range as The MediaBoxx, an entity owned and operated by Johnson.
"Johnson also administered a Facebook group for AATV resellers that went by a virtually identical name, MediaBoxx Corporation confirming that Johnson owns and operates this infringing streaming service," the lawsuit adds.
Reseller Network
Citing the defendants' claims on their own Facebook page, the studios say that the AATV operation has a network of over 600+ "sales agents". The reselling operation worked as a multilevel marketing scheme where AATV customers are rewarded for selling subscriptions to other potential customers.
"For example, in 2020, if a recruit sold a $25 per month subscription, the reseller that recruited him or her earned a $10 commission on that sale. As a result, resellers are encouraged to recruit as many individuals as possible in order to maximize their commissions. Resellers also obtain discounts on their own AATV subscriptions in exchange for customer referrals," the studios claim.
The defendants also reportedly hosted webinars to recruit resellers by offering them the chance to "build a business from home in the telecommunications space."
Illegal Operation, Unfair Competition
In summing up their complaints, the studios say that the AATV live streaming operation is not only illegal but also unfairly competes with licensed streaming providers.
"The result is unauthorized television and movie content streamed over the Internet in a manner that directly competes with, and undermines, authorized cable and Internet streaming services. Defendants' conduct therefore also interferes with Plaintiffs' existing relationships with legitimate services that offer live TV programming," they note.
The same is true for AATV's VOD and 24/7 offering.
"Defendants also illegally and unfairly compete with Plaintiffs' affiliated and licensed subscription VOD services, such as Amazon Prime Video, Netflix, Disney+, iTunes, Apple TV+, HBO Max, Hulu, Peacock, and others, which have the rights to offer on-demand content, often exclusively, to their subscribers."
Copyright Infringment
The studios close with allegations of direct copyright infringement, contributory copyright infringement, and inducement of copyright infringement, demanding the standard $150,000 in statutory damages for each willfully infringed work.
They also demand a broad injunction to prevent all AATV and associated entities (including resellers) from infringing their rights moving forward and an order to seize the operation's domains.
The complaint can be found here (pdf)