In 2010 and 34 years after her death, HarperCollins secured a deal to become Agatha Christie's global publisher.
The deal, a lucrative seven-digit amount covering 80 books, was signed on what would have been Christie's 120th birthday.
Even after the passing of all those years there is still money to be made, with HarperCollins predicting sales of a million Christie books every year, and not only in print either. The deal also allowed HarperCollins to exploit the books in digital format too.
Of course, as with any product online there are people out there prepared to exploit the same content digitally, through more unofficial channels. To that end HarperCollins has been hiring anti-piracy companies to remove files and links from the Internet in the hope that unauthorized content will be harder to find. However, there have been unintended consequences.
In a notice HarperCollins sent to Google via anti-piracy company Digimarc (here), the company requested the takedown of 1,000 URLs. Google wasn't 100% happy with the request and refused to remove most of them, 914 URLs in total.
The exact reasons why that huge number of URLs were rejected will become clear when the full notices are published by ChillingEffects in due course, but drilling down into one specific domain said to be engaged in piracy – Apple.com – we can see a selection of the takedowns were for Agatha Christie books.
At this point Google's refusal to comply becomes clear. In a crazy attempt at self-censorship, HarperCollins/Digimarc had asked the search engine to remove listings of their very own official Christie products for sale on iTunes.
– Motive v. Opportunity: A Miss Marple Short Story (link)
– Death on the Nile (link)
– The Mysterious Affair at Styles (link)
– Poirot Investigates (link)
– Poirot and the Regatta Mystery (link)
– Postern of Fate (Tommy & Tuppence) (link)
– Problem at Pollensa Bay (link)
And the problem continues.
A further notice (here) with another 1000 URLs had 917 takedown requests rejected by Google. It lists nine Christie books (seven explicitly marked as HarperCollins products) and asks for them all to be taken down from iTunes.
Another here requesting 267 takedowns had 249 rejected by Google. At least two were official publications on iTunes.
In nine additional notices (here) asking Google to remove 9,000 URLs, the search engine rejected 7,829 of them.
Nope: Google doesn't want to let HarperCollins ruin its own business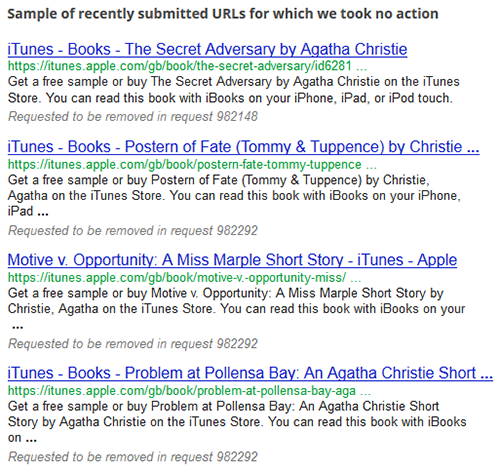 We won't go through every single notice in detail here, but one in particular provokes a vigorous shaking of the head. In Notice 982803 HarperCollins asks for 1000 URLs to be taken down and Google rejected 901. Among other things it requests that Google delist iTunes pages carrying four Agatha Christie books, three of which (1,2,3) aren't even available on the site and are marked as "Expected Release: 13 March 2014."
Taking down listings on Google linking to your own official content on iTunes claiming that it's been pirated by Apple three whole months before its even been released – that has to be a first.
Perhaps unsurprisingly, we have not received a response to our request for comment.
Update January 28 We just received the following statement from Digimarc:
Digimarc Guardian recently issued requests to Google to remove a number of URLs from their search index related to Agatha Christie titles being sold without license on iTunes in the United Kingdom. Unfortunately, due to a technical error, these 123 total URLs included some links related to valid iTunes content. We regret the error and have addressed the issue.
Certain other sets of URLs in the removal request cited in the TorrentFreak article also received no action when reviewed by Google. It appears that in many of those cases, the specified content had already been taken offline, in response to valid DMCA notices directly issued to the hosting sites by Digimarc Guardian, on behalf of HarperCollins.