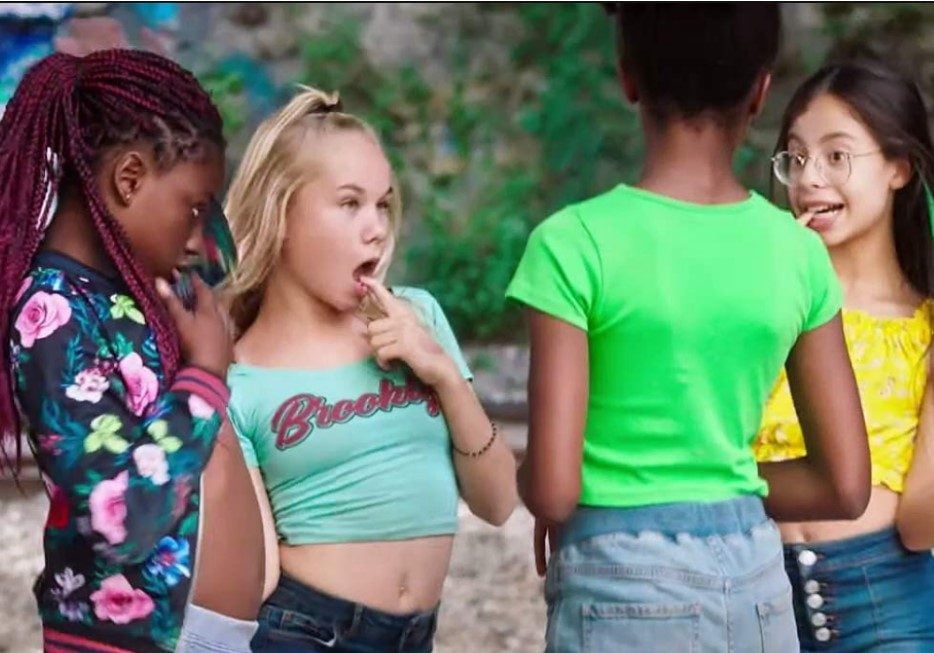 Every week, Netflix sends out thousands of takedown requests, most of which target pirated copies of its movies and TV-shows.
Yesterday, however, we spotted a series of copyright infringement notices with a different and rather uncomfortable theme.
The streaming giant asked Twitter to remove dozens of tweets that included footage from the French coming-of-age film Cuties. This film hasn't been without controversy and the same can be said about the takedown requests too.
Cuties Controversy
To provide some context, Netflix acquired the global distribution rights for Cuties and started promoting it this summer. This created quite some backlash as many people felt that the young actors had been sexualized after being filmed in all kinds of suggestive poses.
We won't go into the various viewpoints on this topic or the lawsuit Netflix faces in Texas over 'lewd visual material.' Opinions from both sides are readily available all over the web, including social media.
For a while, the hashtags #cancelnetflix was trending and today it's still being used. It's clear that, weeks after the film came out, many people are still upset.
Netflix Targets Cuties Tweets
Netflix didn't cancel Cuties, however, but this week it actively started to pull Cuties clips from Twitter. Not just a handful, but several dozens. Legally the company is allowed to do this of course, as they own the rights. However, it is at least a bit peculiar that the company appears to have targeted only negative tweets.
The good news is that the texts of the tweets remain online. We don't know if that is Twitter's decision or if Netflix had a say in it. The takedown requests, which are posted on Lumen, target the full tweet URLs.
Over the past day, we took a detailed look at the flagged tweets which all condemn Netflix. The language is quite harsh at times, including terms such as child exploitation, pedophilia, as well as repeated calls to cancel Netflix.
TorrentFreak spoke to Amber, who had a video that was posted in her tweet removed. This wasn't an illegally recorded clip of the film, she says, but the trailer which was widely distributed by Netflix.
"Someone posted the trailer and I retweeted it and stated how I felt about the movie. I believe people have the right to be upset about the movie. If people share the trailer and say 'go watch it' it's not a problem but if someone disagrees with it, it's a problem," she tells us.
Like many others, Amber had no idea that she had done anything wrong. There was no indication that retweeting the trailer would be a problem or that she would break the law doing so. Clearly upset, she decided to delete her Twitter account.
"The whole thing is just sad and shame on Netflix and Twitter for taking away people's voices. That is how I feel," Amber says.
Author and entrepreneur Sindiso Lubisi was also affected by the takedowns. He posted some clips on Twitter to criticize the content. Today, most of the clips are removed but the accompanying tweets, with hundreds of likes and retweets, survived.
Lubisi says he wasn't contacted by Twitter or Netflix directly. In his case, Netflix has a stronger claim as he posted short clips from the film itself instead of the trailer, but fair use would still be a defense.
All the targeted tweets we've seen are negative about Cuties. This also applies to one posted by Twitter user "llessurtap" who is 100% sure that the video he posted was just the trailer.
"This is vile & 11 year old girls should NOT be using dance expression to convey sexuality. As a father it makes me want to PUKE!" he tweeted at the time, sharing the Cuties trailer.
Free Speech
Llessurtap received an email from Twitter informing him that the content had been removed following a request from the copyright holder. He also says that his account was temporarily locked as a result, but is now accessible again.
"Is a clear violation of our First Amendment rights," Llessurtap tells us.
Whether Netflix views copies of the trailer are being shared online seems unlikely. When we searched briefly, we could easily find other trailers, albeit not in a negative context. Nonetheless, the takedown notices clearly mention copyright issues.
We reached out to Netflix to hear why the company is suddenly going after Cuties clips on Twitter but at the time of writing, we have yet to hear back. It's possible that the company has a good reason, but the context in which this is happening is definitely odd.
As mentioned earlier, the targeted tweets are all focused on negative Cuties responses. The easy conclusion would be that Netflix is trying to shove these under the carpet. However, there are still thousands of similar comments online, so that wouldn't be very effective.
Takedowns are Highly Unusual
That said, these takedown notices are certainly out of the ordinary. Over the past month, Netflix has asked Twitter to remove (content from) roughly 300 tweets. More than half of these were sent on November 3, singling out the Cuties tweets.
Another big difference is that tweets that were targeted earlier appear to target classic pirated content from accounts such as ShowsPopular, SeriesFilmy, iMeuTv, and StreamComplet2.
Finally, as we hinted at before, even if Netflix is legally allowed to remove the Cuties trailers and clips from Twitter, that doesn't make it right. It seems that the people who were targeted have a clear fair use defense.
After all, people can use copyrighted clips for 'criticism' under some conditions, and if there's anything beyond doubt it's that the targeted tweets are critical.