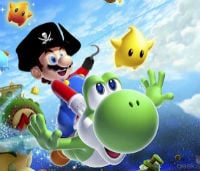 Nintendo has submitted its recommendations for the Special 301 report, the U.S. Government's overview of countries that need to do more to combat piracy.
"Nintendo, along with its publishers and developers, is injured by the prevalence and ease of illegal online distribution," the company explains in their letter.
"In the past few years, the scope of online piracy for Nintendo has grown dramatically. Every month tens of thousands of illegal Nintendo game files are detected on the Internet. The legal environment to limit the flow of these files remains extremely challenging."
Nintendo wants Mexico, China, Brazil and Spain to be listed on the Government's copyright watch list this year, and recommends specific actions to be taken in each of the countries. The game company picked these countries because of their high prevalence of game piracy, and the lack of enforcement.
Brazil is called out as one of the worst actors and Nintendo suggests that the country starts high-profile cases against online pirates and site owners, to deter others from committing the same offenses.
"Publicize legal actions and raids taken against infringers, especially for online piracy, to increase awareness and deterrence," is Nintendo's first suggestion.
In addition there should be stronger penalties against online pirates as well as criminal prosecutions of major infringers.
"Bring criminal prosecutions of major infringers, including those facilitating piracy on the Internet. The courts must impose stronger penalties against IP crimes (both traditional forms of piracy and online piracy) to raise awareness and foster deterrence," Nintendo writes.
Nintendo further wants Brazil to implement new legislation so that circumvention of digital protection becomes unlawful and Internet providers can be held responsible for online piracy.
"Adopt and strictly enforce new laws that explicitly protect against the circumvention of technical protection measures and trafficking in circumvention devices; hold Internet Service Providers responsible for facilitating piracy under certain circumstances including a requirement that ISPs take down infringing content when notified by a rights holder representative."
Nintendo makes similar suggestions for Spain, but here the company goes even further by specifically outlining how the text of the current copyright law should be amended.
Apparently, Nintendo is well-aware of the U.S. Government's ability to alter Spanish legislation. In recent years the U.S. has been heavily involved in changing Spain's copyright law, under threat of severe trade sanctions.
Changing Spain's copyright law
On top of these changes, Nintendo also wants Spain's Intellectual Property Commission to block foreign file-sharing and cyberlocker sites and allocate more resources to the prosecution of both off- and online pirates.
"Since so many illegal video games are downloaded in Spain from foreign-based cyberlockers, and accessed through cyberlinkers or P2P linking sites hosted outside Spain, the IPC must address this issue by authorizing the blocking of linking sites," the letter reads.
"Courts should be provided with greater resources to take on additional IP cases. Due to an overloaded Spanish judicial system, IP cases move too slowly to resolution."
Nintendo's recommendations for Mexico and China show some overlap with the above, but also focus more on circumvention devices.
Interestingly, several of the suggestions for foreign countries are still lacking in the United States as well. Many copyright holders are asking for site blocking provisions in other countries, while the U.S. public can still access these sites just fine.
Nintendo did support SOPA, which would make site blocking easier, but this bill failed.
Similarly, Nintendo requests more legal action against copyright infringers abroad, but is yet to sue a U.S. file-sharer. In fact, the game company isn't even taking part in the "six strikes" scheme that will go live today.