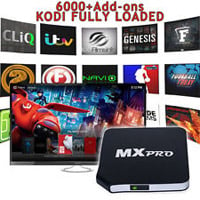 As highlighted in a TorrentFreak report earlier this month, anti-piracy outfits are running out of patience with the proliferation of software and devices that allow for movies, TV shows and sports to be pirated and streamed with ease.
Popcorn Time and Kodi/XBMC derivatives are the industry's primary targets and their installation in hardware devices including cheap Android-style set-top boxes is clearly becoming a real thorn in its side. Earlier this month police carried out several raids in the UK and today comes news of yet more operations, complete with accompanying video.
After a joint investigation by the Metropolitan Police and the Federation Against Copyright Theft (FACT) into the sales of set-top boxes programmed to provide access to movies, TV shows, live sports and subscription channels without permission, officers raided locations in the south and Midlands areas of the country.
In what appears to be the largest raid today, officers from the Metropolitan Police carried out raids in Feltham, Middlesex. A 48-year-old-man and a woman were arrested and more than 1,000 set-top boxes were seized.
Further north in the West Midlands town of Walsall, police seized "dozens" of pieces of electronics including set-top boxes, computers and sat nav systems. A 50-year-old man was voluntarily interviewed by police and FACT investigators.
While police and FACT involvement indicate that the authorities are taking these devices seriously, today raids were also assisted by officers from the West Midlands Regional Organized Crime Unit (ROCU) and the Government Agency Intelligence Network (GAIN). Completing what the Brits might call a "full house", Trading Standards officers were also involved in the operation.
"The proliferation of IPTV (Internet Protocol Television) and set-top boxes along with apps and add-ons that facilitate illegal streams have created new opportunities for piracy and the delivery of stolen content," said FACT Director General Kieron Sharp.
"As today's action demonstrates, we are working in close partnership with our colleagues in law enforcement on addressing these threats and are committed to bringing those responsible to account."
GAIN Co-ordinator Jason Grove underlined the high level of agency cooperation evident in this morning's raids.
"Today's action is an excellent example of our multi-agency working across force boundaries to tackle serious and organized crime," Grove said.
"These kinds of offenses cost the economy and in particular the film and television industry tens of thousands of pounds each year and today shows that we will take action against those involved."
Finally, in a further indication that the authorities and FACT want these operations to be highly visible, a video of one of the raids.