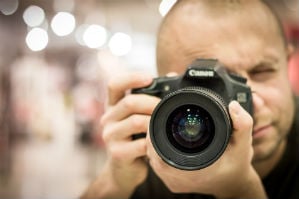 When reviewing the many lawsuits filed against pirate site operators over the years, it's not unusual to see damages claims running into the tens of millions of dollars. This is largely due to the scale of the alleged infringement and the number of copyrighted works involved.
In recent years many photographers have also sought to enforce their rights, sometimes filing lawsuits for a single image or video, such as in the recent case against Kendall Jenner. However, a case just filed against Comcast-owned NBCUniversal could run to pirate site-levels of damages.
Filed in a New York district court this week by Mark Seliger, the complaint (and subsequent amended complaint) alleges that NBCUniversal Media-owned gossip portal Eonline.com (E!) reproduced the photographer's famous portraits without permission.
"Seliger is an accomplished and critically acclaimed photographer. His works have appeared in Rolling Stone, GQ, Vogue, and Vanity Fair and he has authored numerous album covers, books, and short films," the complaint begins.
"He has also created photography in collaboration with global brands like Netflix, Levi's, and Ralph Lauren. He has won numerous awards, including the Clio Grand Prix and the Cannes Lions Grand Prix, and his works are part of the permanent collection of the National Portrait Gallery at the Smithsonian Institution in Washington, D.C., the Museum of Fine Arts in Houston, and the National Portrait Gallery in London."
Presenting dozens of iconic celebrity portraits owned by the photographer, the complaint lists page after page of URLs on Eonline.com which allegedly carry these copyrighted works, including those depicting Miley Cyrus, Ben Affleck, Leonardo DiCaprio, Brad Pitt, Nicky Minaj, Johnny Depp, Jennifer Lopez, Alec Baldwin, Jamie Dornan, Amy Schumer, Bradley Cooper, Katie Holmes, to name just a few.
"Defendants, and each of them, have willfully copied, reproduced, displayed, and distributed the Subject Photography for financial benefit and without Plaintiff's consent, at and on websites bearing the URLs depicted in Exhibit B hereto," the complaint notes, adding: "Plaintiff did not consent to said use of the Subject Photography."
Seliger alleges that the NBCUniversal-owned publication (plus Does 1-10) accessed the copyrighted works from locations such as his website and social media, copied and then reproduced them at the dozens of Eonline.com URLs listed in the complaint. There are many, which means that this lawsuit has the potential, at least on paper, to become extremely expensive for NBCUniversal should the court rule in the photographer's favor.
Alleging "willful, intentional and malicious" direct copyright infringement, Seliger demands statutory damages of up to $150,000 per infringement. A second claim for relief, alleging vicarious and/or contributory copyright infringement, demands the same amount per individual breach of US copyright law.
A third claim states that Seliger's works are "routinely published with attribution, credit, and other copyright management information" which identify him as the creator. According to the lawsuit, the defendants removed this information and/or added false information before distributing online the photographs online. Citing violations of 17 U.S.C. § 1202(a), the photographer demands unspecified additional damages.
As per the standard in these cases, Seliger further demands an injunction preventing the defendants from continuing to infringe his rights plus costs, attorneys' fees, and a trial by jury.
The complaint and first amended complaint can be found here (1,2 pdf)