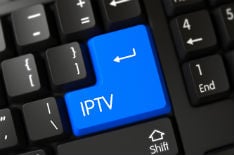 In a report last weekend, we documented what appear to be the final days of pirate IPTV provider Ace Hosting.
From information provided by several sources including official liquidation documents, it became clear that a previously successful and profitable Ace had succumbed to pressure from the Premier League, which accused the service of copyright infringement.
The company had considerable funds in the bank – £255,472.00 to be exact – but it also had debts of £717,278.84, including £260,000 owed to HMRC and £100,000 to the Premier League as part of a settlement agreement.
Information received by TF late Sunday suggested that £100K was the tip of the iceberg as far as the Premier League was concerned and in a statement yesterday, the football outfit confirmed that was the case.
"A renowned pirate of Premier League content to consumers has been forced to liquidate after agreeing to pay £600,000 for breaching the League's copyright," the Premier League announced.
"Ace IPTV, run by Craig Driscoll and Ian Isaac, was selling subscriptions to illegal Premier League streams directly to consumers which allowed viewing on a range of devices, including notorious Kodi-type boxes, as well as to smaller resellers in the UK and abroad."
Sources familiar with the case suggest that while Ace Hosting Limited didn't have the funds to pay the Premier League the full £600K, Ace's operators agreed to pay (and have already paid, to some extent at least) what were essentially their own funds to cover amounts above the final £100K, which is due to be paid next year.
But that's not the only thing that's been handed over to the Premier League.
"Ace voluntarily disclosed the personal details of their customers, which the League will now review in compliance with data protection legislation. Further investigations will be conducted, and action taken where appropriate," the Premier League added.
So, the big question now is how exposed Ace's former subscribers are.
The truth is that only the Premier League knows for sure but TF has been able to obtain information from several sources which indicate that former subscribers probably aren't the Premier League's key interest and even if they were, information obtained on them would be of limited use.
According to a source with knowledge of how a system like Ace's works, there is a separation of data which appears to help (at least to some degree) with the subscriber's privacy.
"The system used to manage accounts and take payment is actually completely separate from the software used to manage streams and the lines themselves. They are never usually even on the same server so are two very different databases," he told TF.
"So at best the only information that has voluntarily been provided to the [Premier League], is just your email, name and address (assuming you even used real details) and what hosting package or credits you bought."
While this information is bad enough, the action against Ace is targeted, in that it focuses on the Premier League's content and how Ace (and therefore its users) infringed on the football outfit's copyrights. So, proving that subscribers actually watched any Premier League content would be an ideal position but it's not straightforward, despite the potential for detailed logging.
"The management system contains no history of what you watched, when you watched it, when you signed in and so on. That is all contained in a different database on a different server.
"Because every connection is recorded [on the second server], it can create some two million entries a day and as such most providers either turn off this feature or delete the logs daily as having so many entries slows down the system down used for actual streams," he explains.
Our source says that this data would likely to have been the first to be deleted and is probably "long gone" by now. However, even if the Premier League had obtained it, it's unlikely they would be able to do much with it due to data protection laws.
"The information was passed to the [Premier League] voluntarily by ACE which means this information has been given from one entity to another without the end users' consent, not part of the [creditors' voluntary liquidation] and without a court order to support it. Data Protection right now is taken very seriously in the EU," he notes.
At this point, it's probably worth noting that while the word "voluntarily" has been used several times to explain the manner in which Ace handed over its subscribers' details to the Premier League, the same word can be used to describe the manner in which the £600K settlement amount will be paid.
No one forces someone to pay or hand something over, that's what the courts are for, and the aim here was to avoid that eventuality.
Other pieces of information culled from various sources suggest that PayPal payment information, limited to amounts only, was also handed over to the Premier League. And, perhaps most importantly (and perhaps predictably) as far as former subscribers are concerned, the football group was more interested in Ace's upwards supplier chain (the 'wholesale' stream suppliers used, for example) than those buying the service.
Finally, while the Premier League is now seeking to send a message to customers that these services are risky to use, it's difficult to argue with the assertion that it's unsafe to hand over personal details to an illegal service.
"Ace IPTV's collapse also highlighted the risk consumers take with their personal data when they sign up to illegal streaming services," Premier League notes.
TF spoke with three IPTV providers who all confirmed that they don't care what names and addresses people use to sign up with and that no checks are carried out to make sure they're correct. However, one concedes that in order to run as a business, this information has to be requested and once a customer types it in, it's possible that it could be handed over as part of a settlement.
"I'm not going to tell people to put in dummy details, how can I? It's up to people to use their common sense. If they're still worried they should give Sky their money because if our backs are against the wall, what do you think is going to happen?" he concludes.