Those who dare to place thousands of pirated movies and TV shows online via so-called 'release groups' tread a very fine line.
On the one hand, they could face the wrath of law enforcement and potentially years in prison. On the other, things may play out rather differently as a deterrent to others.
Release group NTG has been active for around three years, mainly uploading movies and TV shows culled from online streaming services, Amazon in particular. These so-called WEB-DL and WEB-RIP releases are popular since their quality is generally good, especially in the case of the former. And NTG released thousands.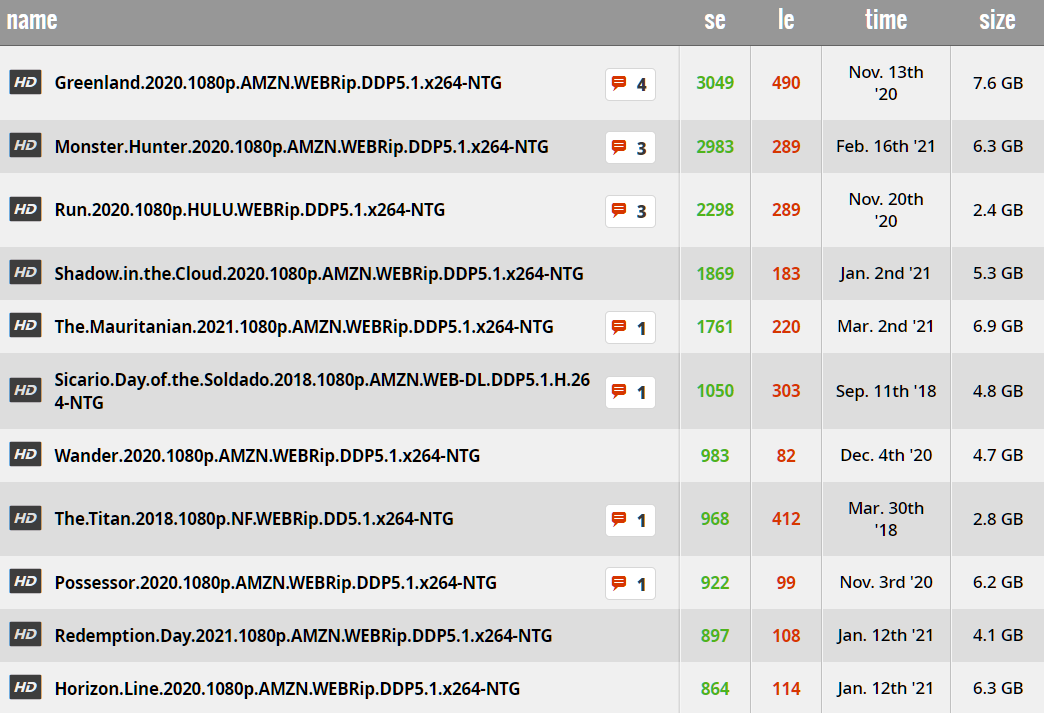 Users of public torrent sites will be familiar with NTG (notthegrinch) releases due to the prominent three-letter tag but the group (most probably a single person) was mainly an uploader on a handful of major private trackers, members-only torrent sites from where his releases trickled down into the mainstream.
That show, however, is now well and truly over.
ACE Announces "Permanent End" to NTG Release Group
In a new announcement, the Alliance For Creativity and Entertainment – the global anti-piracy coalition featuring all of the main Hollywood studios, Amazon, Netflix, and around three dozen other content companies, say that they have put a "permanent end" to the NTG group's activities.
"One of the world's most prolific providers of 'ripped and uploaded' pirated content since 2018, with 4600 releases in the last year alone, NTG, also known as 'Not the Grinch,' illegally made new movies and TV shows available to the public within minutes of a title's legitimate digital/streaming release," ACE reports.
"Ceasing NTG's operations is yet another victory for ACE and sends a clear message to illegal operators working in the ripping and uploading space that ACE will find you and pursue enforcement action against you," adds Jan van Voorn, Executive Vice President and Chief of Global Content Protection for the Motion Picture Association.
NTG Apologizes For The Damage Caused
That ACE would expend significant resources to shut down NTG doesn't come as a surprise. In addition to the many releases that appeared online with specific NTG 'branding', it's believed that other release entities used NTG releases to make their own lower-quality movie and TV show releases, presented under their own branding.
The end of NTG means an end not only to that brand but several others too.
Interestingly, ACE nor the MPA make any reference to law enforcement proceedings directly against NTG or the person operating under the alias 'notthegrinch'. They do not mention any action against the private trackers he once called home either and there is no public reveal of settlement details.
While none of these things are off the table, the nature of the announcement suggests that a criminal case is probably unlikely. What ACE does present to the public is a rather unusual 'apology' from NTG, which they hope will serve as a warning to others operating in the ripping business.
"We are aware of the harm that NTG has caused to the many people who work so hard to bring entertainment to a mass audience and we take full responsibility for the damage we have brought to the industry," a NTG spokesperson said, as quoted by ACE.
"We had mistakenly believed that we could hide behind the anonymity of the Internet, but we have been caught and have agreed to shut down."
The apology certainly ticks all of the right boxes for a PR release but it does sound just a little uncharacteristic, which is most possibly the result of having a formidable team of multi-billion dollar companies pressing for action – or else.
While there is no official confirmation, the ACE release is labeled as emanating from Canada, which may suggest the NTG group was operated from there.