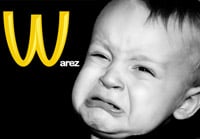 There can little doubt, file-sharing networks can turn up some of the most amazing pieces of media to be found anywhere on the face of the planet.
In addition to all the latest movies and music from just about every musician ever, BitTorrent and other similar networks play host to lots of documentaries, rare footage, document caches, long-discontinued pieces of software and other digital rarities.
But of course, in addition to these undoubted jewels P2P networks also have the ability to turn up the unexpected, as one poor teacher in France learned the hard way last Friday.
The woman, a kindergarten teacher at a school in France, decided she would acquire a movie for her pupils to watch in class. Like many people these days she turned to the Internet and downloaded what she thought was a cartoon suitable for her 3 to 5-year-olds.
It didn't go well.
After turning up at class she played the file in question but immediately left the room to answer a telephone call, leaving the children to 'enjoy' it alone. However, when she returned "five minutes at the most" later she realized that the file she had downloaded was not the 'cartoon' she expected, but a full-on porn movie.
A spokesperson for the school described the disaster as an "extremely regrettable accident." Understandably some parents are claiming that their children were shocked by what they had seen.
As highlighted by our friends at Numerama the error is an easy one to make, especially with file-sharing clients that do not rely on websites to index their content.
On these networks files are identified by a hash but can be superficially renamed by anyone to pretty much anything. This means that malicious users can easily change the title of a porn movie to resemble that of a Disney classic, setting in motion a chain of events such as the one detailed above.
While it is unclear which file-sharing system the teacher used, the same error is unlikely to have taken place is she had put her faith in BitTorrent. Had she done so she would have visited an indexing site (such as The Pirate Bay) where not only would the porn be found in a section on its own, but users of the site would've already flagged the file as badly named and had it removed by the site's moderators.
But of course, the porn industry doesn't make things any better either. Fancy watching Snow White and the Seven Dwarfs? Well if you do please take care, there is an adult movie of exactly the same name. Beauty and the Beast? Check. Little Red Riding Hood? Check.
The moral of the story is this: If you don't want a nasty surprise, use an indexing site where possible, read the comments section thoroughly, and if you want to be double sure, paste the hash of the file being downloaded into Google. You're not just avoiding porn here, but malware and other nasties.
Oh, and don't expect technology to do an intelligent babysitting job, even for five minutes.