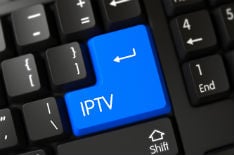 Rightsholders, anti-piracy outfits, and police are stepping up their efforts to disrupt 'pirate' IPTV operations around Europe, the United States, and the rest of the world.
These unlicensed services are considered one of the prime threats to the profits of broadcasters since they offer hundreds and often thousands of live TV channels to Internet users at a fraction of their official retail price.
Italy's Postal and Communications Police (Polizia Postale e delle Comunicazioni) is the latest body to report success in this area, after targeting a source (perhaps the main source) of popular local provider ZSat, a service that offered the entire programming schedule of media giant Sky.
Following what authorities are describing as a highly technical and complex operation carried out under the coordination of the Public Prosecutor of Palermo, the cybercrime unit says it targeted the Palermo home of a 35-year-old man.
In his bedroom police found a total of 57 Sky Italia satellite decoders which were configured to receive Sky's broadcasts. In turn, these receivers were connected to equipment which allowed channels to be retransmitted over the Internet for consumption by IPTV subscribers.
According to the authorities, the scale of the business was supported by the discovery of various assets at the property, including 186,900 euros in cash and a car. A banknote counter and gold bars were found hidden in a toilet and garbage disposal areas.
Police also found virtual wallets containing various cryptocurrencies. No value has yet been placed on the digital haul but the Postal and Communications Police says the amount is "certainly high" but will be better estimated following further "technical assessments".
The discovery of a large number of satellite decoders at the address indicates that this wasn't a low-level provider. Considerable effort is required to put together this kind of operation and it's likely that the resulting Internet streams would have been utilized by other IPTV providers.
Authorities say the man is now under investigation for suspected criminal offenses under Art. 171 of local copyright law which carries penalties of up to three years in prison for commercial infringement.