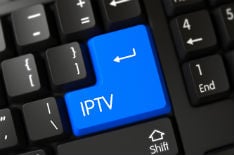 Italy's love of the pirate streaming world is well documented and authorities there have placed themselves at the forefront of high-profile enforcement actions.
From the 2019 closure of Xtream-Codes, a service that still protests its innocence, through to several other major shutdowns, Italian police are determined to reduce the use of illegal set-top boxes, known locally as "pezzotto".
New Operation Claims To Be One of the Most Significant Yet
According to the Polizia di Stato (State Police), a new enforcement action has caused significant damage to the supply of pirate IPTV services in Italy. The investigation began when the Postal Police of Catania discovered sellers of pirate IPTV services on Telegram, social networks, and on various 'bot sites'.
As the inquiry broadened, a technical investigation led to the sources of the pirated content, including what is being described as an important "power station", presumably a network of distribution servers acting as the driver for a large proportion of the content being accessed in Italy The State Police now report the fruits of this investigation.
200 Specialists Take Part in operation "Black Out"
In an operation that deployed 200 specialists across 11 regional divisions of the Postal Police (Catania, Palermo, Reggio Calabria, Bari, Naples, Ancona, Rome, Cagliari, Milan, Florence, Venice), authorities say they have dismantled a broad and complex criminal infrastructure, from both organizational and technological perspectives.
Reports indicate that pirate IPTV services, offering content from official providers including Sky, DAZN, Mediaset, Netflix, and others, were shut down last week, "blacking out" an estimated 80 percent of the illegal IPTV flow into Italy.
Police say the operation effectively closed down 1.5 million subscriptions to illegal IPTV services that together generated a "guaranteed illicit income" of around 15 million euros per month to the network.
Pyramid Scheme: 45 People Under Criminal Investigation
In common with many similar operations elsewhere in the world, the IPTV network being described in Italy was operated on a pyramid basis. At the top were the suppliers of the original content, who often obtained it via legal subscriptions from official sources.
These streams were then captured, encoded, and subsequently distributed via dedicated Internet infrastructure before being cascaded down to various 'retailers' and resellers. These latter two categories were responsible for sales to end-users of pirate devices, known locally as "pezzotto".
At the time of writing, officials aren't reporting exactly how many people were arrested. However, it is reported that 45 people are currently under investigation for various offenses including abusive access of a computer system, computer fraud, and reproduction and distribution of intellectual property via the Internet.
Police further report the seizure of hardware including servers and other computer equipment used to obtain and broadcast the pirated content. Following searches on suspects' homes, police say that "tens of thousands" of euros were also seized in connection with the illegal network, a proportion of which is displayed in the video below.
No Mention of Users Being Targeted – Yet
While raids on IPTV suppliers and resellers are not uncommon in Europe, Italian authorities have gone a step further by warning that buyers of illegal subscriptions will be targeted too. At the time of writing, users aren't being described as targets in this matter but given the scale and Italy's track record, it cannot be ruled out.
Following an operation last December, police warned that were preparing to identify up to 50,000 users for potential criminal action. That followed on the heels of an initial announcement last February reporting that 223 subscribers had been reported to the judicial authorities for prosecution.
In September 2020, the Guardia di Finanza said it was working to identify an additional 1,000 IPTV subscribers following another operation, noting that for breaches of copyright law and receiving stolen goods, they could face up to three years in prison and a fine of 25,000 euros.