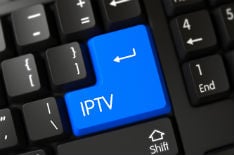 Last summer the pirate IPTV market was thrown into turmoil when Italian authorities took down Xtream-Codes.
The IPTV management service was believed to be connected to 5,000 pirate services that catered to around 50 million end-users.
The enforcement actions caused problems at many IPTV services, with IPTV traffic dropping by half, but in the weeks that followed many providers managed to recover. That doesn't mean, however, that law enforcement authorities are giving up.
This week the Guardia di Finanza (GdF), the law enforcement agency connected to the Italian Ministry of Economy and Finance, announced another IPTV-related enforcement operation. This time, it is targeted at customers of these pirate IPTV services.
Following an in-depth investigation, Guardia di Finanza tracked down 223 subscribers of illegal IPTV services. These people were subsequently reported to the judicial authorities, where they face further prosecution.
According to the law enforcement agency, the investigation remains ongoing. This means that more IPTV subscribers may be identified and reported in the future.
The subscribers in question are being held responsible for the crime of "receiving stolen goods." If found guilty, they risk a penalty of 25,000 euros as well as an eight-year prison sentence, the authorities state.
The investigations were carried out with help from Italian anti-piracy group FAPAV, which provided technical assistance. FAPAV sees IPTV piracy as a major and growing threat to the entertainment industries.
Federico Bagnoli Rossi, Secretary-General of FAPAV, thanks Guardia di Finanza for its operation which he believes is needed to show that end users are also at risk.
"The operation is crucial because, for the first time in Italy, it doesn't only focus on the operators of the pirate portals but also the users of these services," Rossi says.
FAPAV hopes that these enforcement actions will continue. It believes that the growing problems pirate IPTV services cause are underestimated, so clamping down on all aspects is essential.
"In just one year we have seen an increase of over a million [pirate IPTV] users," Rossi notes, adding that copyright holders are severely affected by these illegal services.
If and how many of the reported IPTV subscribers will indeed be prosecuted is unknown. However, the operation does show that subscribers are not untouchable, which will likely be used as a warning message to others.