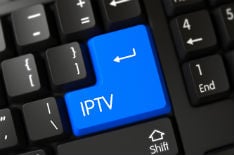 Late June, officers from Norfolk and Suffolk Constabulary's Cyber and Serious Organised Crime Unit arrested a 24-year-old man in the UK under suspicion of operating a pirate IPTV service.
First of Its Kind Warning Message
The unique aspect of this operation was that the targeted service, GE Hosting (GE, Global Entertainment), was not only taken down but was replaced by a warning notice that was displayed on subscribers' TV screens.
"This illegal stream has been seized By Norfolk and Sussex Police," it began.
"Watching illegal broadcasts is a crime. Your IP address has been recorded. You are instructed to cease and desist immediately from all illegal media streaming."
At the time, police did not mention that GE was the target but multiple sources informed TorrentFreak that it had indeed been taken down by the authorities. Now, however, customers of that service are being personally informed that their illegal subscriptions to GE Hosting have been noted by the police.
Police Send GE Subscribers Cease-and-Desist Notices
"This letter is intended as notification that Norfolk and Suffolk Constabulary Cyber, Intelligence and Serious Organised Crime Directorate are aware of your households use of an illegal TV streaming service, namely through a provider known as 'GE Hosting'," the letter reads.
"By providing this illegal service, the operators of GE Hosting have committed criminal offenses contrary to the Serious Crime Act, the Proceeds of Crime Act and the Copyright Designs and Patents Act, these are serious offenses which carry a maximum sentence of 14 years' imprisonment."
"Persons whom subscribe to services like the service provided by GE Hosting also commit a criminal offense contrary to s.11 of the Fraud Act which carries a maximum sentence of up to five years imprisonment, and/or a fine, and consequently results in a criminal record."
"We are aware that you/members of your household have been subscribing to this illegal service."
It isn't yet clear whether the letter, which is reportedly being sent to thousands of subscribers, was delivered electronically or by physical mail. IPTV subscribers do not have to provide an accurate billing address but most people do hand over an active email address.
In any event, the letter notes that it is not a notification of police action or the beginning of an investigation or criminal prosecution. However, it does make it clear that the letter should be considered a formal cease-and-desist notice which dictates that the subscriber stops illegally streaming using the GE Hosting service.
Our understanding is that GE Hosting has already been shut down, a fact that was clarified as correct by Suffolk Police following our email inquiry this morning. As a technicality, therefore, a cease-and-desist notice isn't needed as the service no longer exists. However, that obviously isn't the point here.
Sending a Powerful Message Using the Fraud Act
Nationwide news of thousands of people receiving notices will send a strong message that IPTV subscribers' personal details are just a step away from the police. More importantly, perhaps, the document clearly states that the authorities aren't looking at copyright offenses, but those covered under the much more serious Fraud Act.
"Section 11 makes it an offense for any person, by any dishonest act, to obtain services for which payment is required, with intent to avoid payment. The person must know that the services are made available on the basis that they are chargeable, or that they might be," the relevant legislation reads.
Section 11 also provides a clear-cut example, since it covers the situation "where a person attaches a decoder to her television to enable viewing access to cable / satellite television channels for which she has no intention of paying."
Offenses under the section can be varied, from obtaining online services without paying for them, to people using false credit card details to access the same. However, another offense punishable under the Act (perhaps an interesting one given the Premier League's interest in these cases) is the situation "where a person climbs over a wall and watches a football match without paying the entrance fee."
While copyright charges would be available to the police, 'fraud' is a heavyweight term among the public. People tend to understand what fraud means and few would enjoy the worry of a fraud conviction hanging over them as it could be a life-changer, particularly career-wise.
Comply With the Warning – Or Else
GE Hosting is confirmed as closed, which makes it impossible for a letter recipient to breach the cease-and-desist order since it relates only to GE. However, police say that "subscribers shall be monitored" adding that police reserve the right to proceed to investigation and prosecution.
"If this type of unlawful activity continues then you will receive no further warnings before criminal enforcement is taken. This letter should therefore not be read as precluding enforcement if you fail to heed this cease and desist letter. The fact that this letter was sent to you could also be cited in future criminal proceedings."
TorrentFreak asked Suffolk Police how this monitoring will be carried out but we are yet to receive a response. However, the fact that people have received a letter at all is quite remarkable.
As far as we're aware and following the on-screen warning, this is another world first for Norfolk & Suffolk Constabulary, not to mention an intriguing escalation of the deterrent message in the UK.
A copy of the cease-and-desist, supplied by FACT, can be found here (pdf)