Unless you've had an Internet outage lasting a month, news of the Popcorn Time app will have appeared on your screen on several occasions. It dramatically burst onto the scene in March and stirred up a huge controversy, but just a handful of weeks later it was abandoned by its creators.
Being open source the project was easy for others to pick up but without the original GetPopCornTi.me URL it was always going to be difficult for new project leaders to immediately show they were the 'real deal'.
Nevertheless, today there are two main Popcorn Time replacements, both of which call themselves Popcorn Time. To get some clarity, TorrentFreak caught up with the people behind both projects to find out about their plans. For simplicity's sake we'll refer to them by their current URLs – popcorn-time.tv and time4popcorn.eu.
Popcorn-Time.tv
Popcorn-Time.tv's website has the same look and feel as the original Popcorn Time and offers four version of the software – Windows and Mac plus Linux 32 and 64 bit. Everything is open source and the project page can be found on Github. So where did this group originate?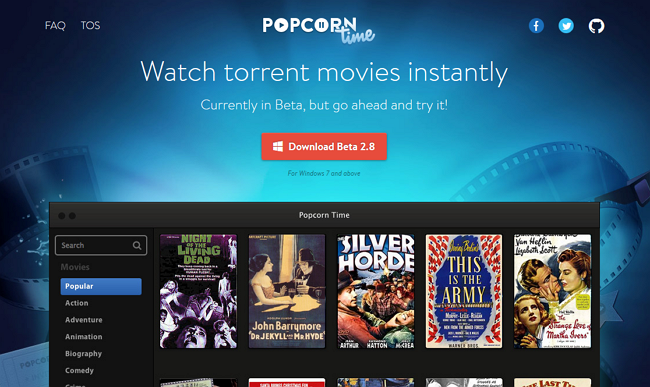 "Our project started right after the original devs abandoned their project," a Popcorn-Time.tv dev told TorrentFreak.
"I happened to be working on a new feature on a fork at that moment. When the devs closed their project, people started asking what should be happening and I pointed them to my repository where I was working on fixing everything. I end up being the most-used fork after a few hours."
Shortly after another dev who had worked on the original Popcorn Time project agreed to merge his ongoing fork with what would soon become Popcorn-Time.tv. Together they released three new versions of Popcorn Time – 0.2.6, 0.2.7 and 0.2.8, the current version.
"A few days ago, however, the other developer went missing, the main repository and its website were shutdown as well. So I then set up a new organization (popcorn-org) and a new website (popcorn-time.tv) to keep going," the Popcorn-Time.tv dev explained.
"In the general picture I would say we fit as the original Popcorn Time continuation. We haven't added many features yet since we are working on getting everything more stable and usable by everyone. TV series and more are planned for the next month."
Popcorn-Time.tv also informs TF that work is underway to allow their software to save downloaded movies for later viewing and that an upcoming rewrite and release of version 0.3.0 in around two weeks will sport a new UI.
Sneak preview: New Popcorn-Time UI

Add Chromecast and multi-torrent tracker support on top and things are looking exciting for this version of the infamous software.
Time4Popcorn.eu
Although it has a similar feel, Time4Popcorn.eu's website differs slightly from the original. It is less complex and carries just a single version (Windows) of the Popcorn Time software. Which version isn't clear since its been repackaged by the site and currently the source is private.
However, speaking with TF the Time4Popcorn.eu team made it clear they have big plans, both on the feature front and in transparency terms.
"We are all Popcorn Time users, and when the original project was taken down it was clear to us that we would not let this technology die, and without hesitation we took the files and put them online for download," Time4Popcorn.eu explain.
"The great response from the users and the amount of downloads a day made us very excited and we decided to invest our time in improving and preserving Popcorn Time."
The people behind this version say they are the owners of file-sharing websites with millions of visitors a day. With their experience they want to ensure Popcorn Time stays online "forever."
"Our knowledge in that field will help us to better understand what the users want and need to enjoy more of Popcorn Time," they add.
So what next for Time4Popcorn.eu? Big things, apparently, including an imminent mobile version.
"At this very moment, we are working around the clock on the Android version of Popcorn Time and hoping to release it in the next two weeks," the team reveal.
And, for those worried about the current closed-source, things will change on that front too. Once the mobile version is complete the source code will be published on Github and the community will be invited to help with its development.
"We will also publish our brand new release of the desktop version that will include seeding of the downloaded torrent (the current version does not seed the torrent!), a much faster torrent client and a new video player that will give us the ability to show not only MP4 videos, but all kinds of video formats that will increase the amounts of available torrents," they add.
The team says that this version will also go open source on the day of release.
"For now, we are not doing anything besides staying up all night and developing this great app," they conclude.
Conclusion
Having more than one version of one piece of software is certainly not ideal since it's confusing for users, but at the moment the versions detailed above appear to be key to keeping the Popcorn Time dream alive. Which will win the battle (if they even see it that way) remains to be seen, but of course there's aways a chance that a merger could be on the cards, if minds meet at the appropriate moment.
Update: Time4Popcorn lost its domain name and switched to Popcorn-time.se