Google is widely regarded as the best search engine, a reputation the company has carefully built up over the past two decades.
However, when it comes to one particular niche, Google's results are rapidly deteriorating. We're talking about pirate sites.
As background, it's good to mention that search engines have been under a lot of pressure to remove pirate sites from their indexes entirely. Google categorically refused to do so. Instead, it chose to push down popular pirate sites for certain keywords, including movie and music titles.
This started many years ago and worked as intended, according to Google. Someone searching for "Game of Thrones torrent" was not going to find The Pirate Bay in the top results. Similarly, filters were set up for music-related queries as well.
As a result, pirate sites saw their search traffic decline drastically. This meant a drop in new visitors to these sites. However, people could still find these pirate sites by searching for their name. We use the past tense here because that has changed for many sites as well.
Over the past few months, it has become harder and harder to find the homepages of some popular pirate sites. Instead, Google points people to Wikipedia pages or entirely different – sometimes scammy – sites that use the same name. We'll address a few examples here, contrasting our findings with Bing and DuckDuckGo.
We start with 1337x.to, a popular torrent site that has been around for well over a decade. While search results may vary from day to day and can differ based on location, our tests across several continents failed to show the official '1337x.to' domain in the top results when searching for "1337x."
1337x's official Wikipedia entry is highlighted among the top results and in the "knowledge graph". However, it sits among a list of unofficial '1337x' entries which drives visitors to third-party sites. This provides a major opportunity for scammers and phishing sites.
Of course, Google hasn't suddenly forgotten the details of the real 1337x site. Also, the 'disappearance' of the main domain is not the result of a DMCA notice, as that would be explicitly highlighted and 1337x's homepage doesn't link to any infringing content directly. The official site has likely been punished based on some algorithms.
When we compare the results to other search engines, the difference is clear, with Bing and DuckDuckGo returning the official 1337x homepage on top. That is the correct result for this query.
The same disappearing trick also applies to other popular torrent sites, such as Torrentz2, EZTV, NYAA, and LimeTorrents. Google users who enter these keywords in Google's search engine are not directed to the official sites, but will see unaffiliated sites on top that hijack traffic by using the same name.
A search for NYAA on Google, for example, doesn't show the official domain anywhere on the first results pages. Again, DuckDuckGo has no trouble finding the official site and Bing returns the proper result as well, including a search box that allows people to search the site directly.
TorrentFreak spoke to the operator of LimeTorrents.info, one of the most popular torrent sites, who confirmed that Google's actions have impacted the site's traffic. That also applies to the site's official proxy domains too. However, the number of people searching for 'Limetorrents' hasn't dropped, so these people end up elsewhere now.
"Google removed almost all torrent site homepages from its search results and our site's traffic is affected too," LimeTorrents' operator says. In this case, the disappearance is not linked to a DMCA notice either.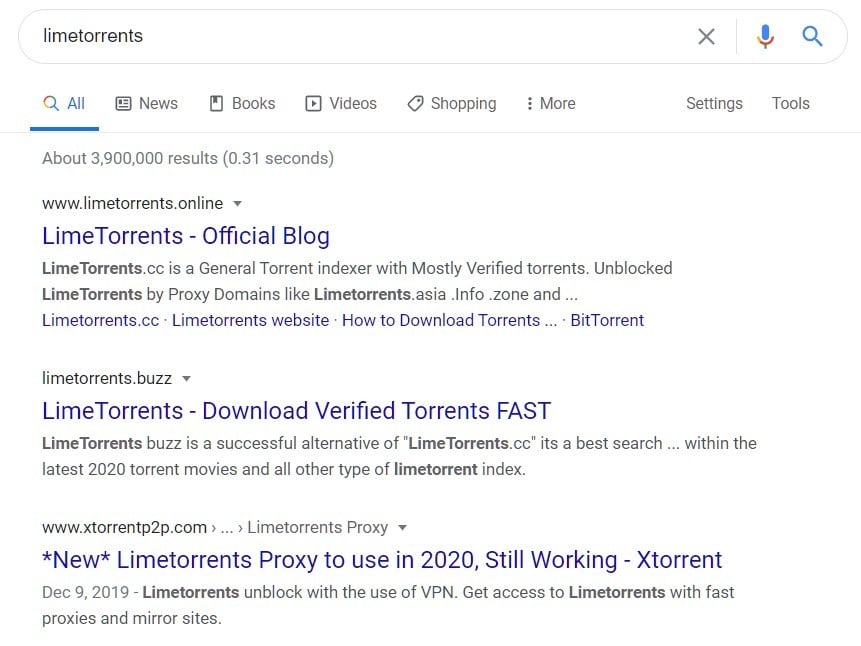 The disappearance of homepages is not limited to torrent sites. The same can be observed for other pirate sites, including streaming portals. For example, Kissanime is nowhere to be found in Google's top results. Again, Bing and DuckDuckgo have no trouble locating the correct URL.
That doesn't mean that other search engines are without 'issues.' When we searched for Fmovies on Bing and DuckDuckGo we noticed that all official URLs have been removed. Google still indexes Fmovies.to links (not in the top results of course), but doesn't show them when searching for "Fmovies"
In some instances, Google's 'decisions' can result in outright embarrassing situations. For example, a search for Fmovies and other popular pirate brands now shows an Associated Press (AP) story on top.
This may sound like a legitimate link but it's not. AP runs paid press releases filled with pirate keywords which promote the pirate streaming portal Yolamovies. That's not a good look.
When we look at The Pirate Bay's results, things get complicated. In many of the locations the popular torrent site wasn't listed in the first pages of results. This can be quite confusing and points people to malware warnings and copycats, a trap even the BBC fell for.
Interestingly, however, the official TPB domain was the top result in our North American tests. This means that TPB's localized 'disappearance' may be the result of local traffic patterns, which change in countries where the site is blocked.
While these observations are intriguing, we have no idea why Google is acting this way. A likely option would be to limit the exposure of certain infringing sites. However, the question is whether it actually improves the situation, as people are now driven to third-party pirate sites, which may not have good intentions.
Google's actions are also interesting in light of comments that were made earlier regarding the removal of entire domains.
"Whole-site removal is ineffective and can easily result in the censorship of lawful material," Google previously said, adding that it would send "the wrong message by favoring over-inclusive private censorship over the rule of law."
With their current measures, pirate sites remain indexed. However, when one can no longer find 1337x's non-infringing homepage by typing in "1337x," there's certainly some type of algorithmic censorship involved, inadvertent or not.