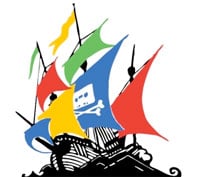 Anyone who searches for music, TV-shows or movies on the Internet will notice that BitTorrent sites and other file-sharing services are usually listed among the top results.
As we have argued before, Google is probably the number one reason why millions of people are using BitTorrent sites today. This trend hasn't gone unnoticed to the music industry either, and today The British Phonographic Industry (BPI) went as far as blaming Google and other search engines for being a main source for online piracy.
"Search engines are as popular as P2P applications as a source of illegal downloads," BPI stated in a report today. "It's not hard to see why. Key in the name of any popular artist, add search terms like 'mp3' or 'download' – both neutral terms – and typically the large majority of results that appear are blatant links to illegal downloads."
As an example of this alleged facilitating behavior by Google, the BPI performed a few test searches. They found that the majority of the top Google search results for popular singles pointed to 'illicit' sources.
"In a single week in November, BPI test searches were made on Google for the UK's top 20 singles or albums, followed by 'mp3'. On average 17 of the first 20 Google results for singles and 14 of 20 search results for albums were links to known illegal sites."
The search results are just one part of the search engine problem though. In addition, the BPI points out that services such as auto suggest and Google's instant service may drive people towards 'rogue' or 'illegal' sites.
"The predictive search tools offered by some search engines go further by actively directing users towards free illegal downloads by auto-completing artist searches with additional phrases like 'torrent', or providing specific references to unlicensed sources like Mediafire or mp3raid."
CENSORED SOON
Although the BPI is right in their analysis, they also know that the search results are merely the result of a set of algorithms. Piracy related searches float to the top and are suggested because that's what people tend to search for. Google has no active role in it.
This is what the BPI hopes to change. They suggest that search engines should actively censor their search results, and move links to 'authorized' music stores higher up. According to the music industry this would be a very effective tool to decrease piracy.
"The music industry continues to press search engines to help consumers stay on the right side of the law and has suggested concrete solutions such as prioritising music search results in favour of legal online services such as those highlighted by the Music Matters campaign," the BPI writes.
In part, these lobbying efforts have already been successful. Two weeks ago Google announced several upcoming changes that would benefit copyright holders. Among other things the search mogul said that it would censor 'piracy' related words for appearing as auto-complete suggestions.
For Google this is a slippery slope to be on, and the next step could very well be the sort of commercial censorship the music industry is suggesting. And if the music industry is successful, other industries will soon follow. The question is, however, if that will solve the piracy issues or just hide them.