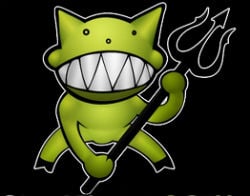 After 20 months of downtime the infamous Demonoid BitTorrent tracker came back online earlier this year.
The site slowly started to rebuild its community and is now getting millions of visitors per month again. At the same time, however, the torrent site is also drawing attention from various copyright holders.
On behalf of Sony, Warner and Universal, Italian anti-piracy group FIMI submitted a complaint against Demonoid to the Communications Regulatory Authority (AGCOM) last month. AGCOM is a regulatory body that has the power to order website blockades without court interference, if sites are deemed to be infringing.
The labels' complaint listed several tracks by Italian artists including Laura Pausini, Max Pezzali and Vasco Rossi, which were made available on Demonoid. However, instead of ordering blockades for these infringing works, AGCOM has now instructed ISPs to block the entire website.
As a result, Italian Internet subscribers can no longer access Demonoid.
TorrentFreak contacted Fulvio Sarzana, a lawyer specialized in Internet and copyright disputes, who told us that the scope of the preliminary injunction is too broad and disproportional.
"The order, in my opinion, is not proportional. The Court of Rome repeatedly ruled that blocking orders must be directed only at illegal content, and not the whole site," Sarzana says.
The lawyer refers to a ruling earlier this year, where the Court of Rome recalled a blocking order against the video streaming site Filmakerz.org. The Court argued that partial blocking of a specific URL is preferred over site-wide bans, something that clearly didn't happen with Demonoid.
"Demonoid would do well to contest the measure which appears to be illegitimate," Sarzana notes, adding that the AGCOM procedures may be unconstitutional.
This issue has also been raised by several consumer groups who asked the court to review AGCOM's legitimacy. Earlier this week the Court of Rome referred these complaints to the Constitutional Court. Here it will be examined whether the current procedure violates right to freedom of expression and free speech, among other things.
If AGCOM is indeed deemed to be unconstitutional there's a good chance that all existing blockades will be lifted. In addition, Sarzana believes that the wrongfully blocked websites may then be entitled to receive compensation for the damages they suffered.
However, until a decision from the Constitutional Court arrives AGCOM will continue to operate normally. FIMI is happy with this decision as well as the new blockades against Demonoid.
"We are extremely satisfied with this new blocking order and also about the outcome of the decision from the administrative Court of Rome on the regulation," FIMI's Enzo Mazza tells TorrentFreak.