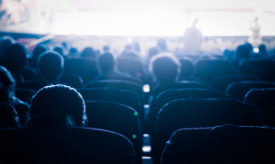 After a film first shows up in theaters, movie fans usually have to wait a few months before they can get a DVD or digital download, depending on the local release strategy.
This delay tactic, known as a release window, helps movie theaters to maximize their revenues. However, for many pirates, this is also a reason to turn to unauthorized sites and services.
Many of the most pirated movie titles are not yet available to buy or rent online, but they are on The Pirate Bay, Fmovies, and elsewhere. Perhaps only a fraction of these pirates would pay, if they could, but release windows are not helping.
This critique isn't new and, according to a working paper published by Pepperdine University researchers, the tide is turning. Movie release windows are shrinking rapidly, for digital downloads at least.
In their paper titled: Popcorn or Snack? Empirical Analysis of Movie Release Windows, the researchers compared the release windows of DVDs to those of electronic sell-through movies (EST) on iTunes, Amazon, and YouTube. EST movies are also called "download to own" and have a comparable release date to rentals, in most cases.
The results show that between 2012 and 2017, the release windows for DVDs remained relatively stable at three to four months. However, for digital downloads there was a sharp decrease over the same period.
"Based on our results, the EST release date has been approaching the DVD release date at a steady and significant average rate of about 23 days per year," the researchers write.
"Within only two years, we have seen the average EST release window shrink by more than half, from 255 days in the 2nd quarter of 2012 to 114 days in the 2nd quarter of 2014. The EST window has pretty much reached the average 113 day DVD window in our sample."
Shrinking window
Since 2015, digital downloads actually have a slightly smaller release window than DVDs on average, making it the first release channel after movie theaters.
While this is good news for movie fans, it's uncertain if this trend will continue. The current release windows appear to be carefully chosen to ensure that they don't cannibalize box office revenues.
This is nicely illustrated in the figure below, which shows that 95% of all box office revenues are generated in the first two months, and 99% after four months. The optimal release window falls somewhere in the middle.
That would also explain why the DVD release window isn't shrinking any further.
Cumulative box office revenue
The researchers see room for further improvement, however. Decreasing the video on demand release window can cost a few percents of box office revenue, at most, but it might result in a significant boost in online sales.
And with the piracy rates not showing any decline, movie studios might feel the need to experiment a little.
"Given that most of the theater revenues are captured within the first two months and given that movie piracy shows no signs of slowing down, there will be increasing pressure for studios to release movies earlier in secondary channels to increase revenues coming from these channels," the researchers write.
—
The full paper, written by Dr. Nelson Granados and Dr. John Mooney, is available here.