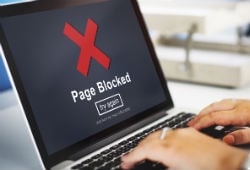 When it comes to blocking websites, Russia is quickly emerging as a world leader. Tens of thousands of resources are now blocked in the country on copyright infringement and a wide range of other grounds.
Of course, Russian citizens are not always prepared to be constrained by their government, so large numbers of people regularly find ways to circumvent ISP blockades. The tools and methods deployed are largely the same as those used in the West, including VPNs, proxies, mirror sites and dedicated services such as Tor.
To counter this defiance, the Russian government has been considering legislation to tackle sites, tools and services that provide Internet users with ways to circumvent blockades. According to local news outlet Vedomosti, that has now resulted in a tough new bill.
Russia's plan is to issue a nationwide ban on systems and software that allow Internet users to bypass website blockades previously approved by telecoms watchdog Roskomnadzor. This means that if a VPN, proxy or similar tool unblocks torrent site RuTracker, for example, it will be breaking the law. As a result, it too will find itself on Russia's banned site list.
The publication says it has confirmed the bill's existence with a federal official and several Internet service provider sources.
The technical aspects of the bill were reportedly formulated by lawyers working for the Media Communications Union (MCU), a trade group established by the largest media companies in the country. The MCU has a particular interest in ensuring that web users do not bypass pirate site blockades by using anonymous web-based CGI proxies.
The bill does give VPN and proxy providers some remove for maneuver. If they are configured to prevent access to all domains present in Russia's banned resources list, it appears they can avoid legal issues. However, for VPN services which pride themselves on not monitoring user traffic, censoring certain sites could provoke a backlash and undermine credibility.
As previously reported, Russia also has search engines in its sights. It wants to prevent links to banned sites appearing in search results, claiming that these encourage people to access banned material.
The new bill reportedly lays out a new framework which will force search engines to remove such links. Failing to do so could result in fines of up to $12,400 per breach, clearly a significant issue for companies such as Google and local search giant Yandex.
"We believe that the laying of responsibilities on search engines is superfluous," a Yandex spokesperson said.
"Even if the reference to a [banned] resource does appear in search results, it does not mean that by clicking on it the user will get access, if it was already blocked by ISPs or in any other ways."
This morning, the bill was discussed at the Russian Internet Forum (RIF). While it's aim of reducing copyright infringement was understood, there were concerns that the bill could affect negatively effect the rights of Internet users.
"Naturally, we are against the spread of illegal content, but the law does not violate the rights and freedoms of citizens to access information," says Sergey Grebennikov, director of the Regional Public Center of Internet Technologies.
"Yes, there is a 'gray zone' used to carry out illegal activities and the distribution of illegal content using a CGI proxies, but it does not mean that legitimate users have to suffer. It is also important to note that the laws do not violate the rights of users who choose the safe use of the Internet, for example, by using a VPN connection," Grebennikov concludes.