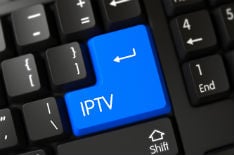 In December 2021, movie and TV giants Universal, Disney, Paramount, Warner and Columbia, plus Netflix, Amazon, Apple and several other studios filed a lawsuit against Texas resident Dwayne Anthony Johnson.
According to the plaintiffs, Johnson is behind IPTV services AllAccessTV (AATV) and Quality Restreams. The complaint states that AATV offered subscription access to infringing movies and TV shows via its IPTV and VOD services, delivering content such as The Godfather, Harry Potter, Jurassic Park, and The Office, without appropriate licensing.
Quality Restreams allegedly provided infringing content to other IPTV providers, including AATV, via live IPTV channels and a VOD service.
"The result is unauthorized television and movie content streamed over the Internet in a manner that directly competes with, and undermines, authorized cable and Internet streaming services," the complaint added.
In February 2022, the parties agreed to a preliminary injunction in a California district court that restrained and enjoined Johnson (and anyone acting in concert with him) from operating AllAccessTV and Quality Restreams (or any similar service) that may infringe the plaintiffs' rights.
Importantly, this was jointly agreed on the basis that Johnson denies liability and makes no admission of liability by agreeing to the preliminary injunction.
Joint Report to the Court
Late last week the parties submitted a joint scheduling report which summarizes the key legal issues in the lawsuit as follows:
(i) whether Defendants are liable for the unauthorized transmission and performances of Plaintiffs' Copyrighted Works to members of the public on a mass scale, in violation of Plaintiffs' exclusive rights to publicly perform the Copyrighted Works, 17 U.S.C. § 106(4);
(ii) whether Defendants are liable for infringing upon Plaintiffs' exclusive reproduction rights through the unauthorized copying of the Copyrighted Works for Defendants' 24/7 channels and VOD offerings, id. § 106(1); and
(iii) whether Defendants are secondarily liable for the infringement of Plaintiffs' exclusive public performance and reproduction rights in the unauthorized copying of the Plaintiffs' Copyrighted Works, including by creating and growing a network of resellers who promote and sell the infringing services.
The report notes that the plaintiffs have not yet decided whether they will seek actual damages or statutory damages but if past lawsuits offer any guidance, statutory damages seem most likely. Proving specific losses suffered by the plaintiffs can be difficult, if not impossible, so a round figure of $150,000 per infringement can be a more simple solution.
The document further states that the plaintiffs are likely to move for summary judgment on the issue of Johnson's liability. Johnson does not anticipate filing summary judgment motion(s) but reserves the right to file "dispositive motions" moving forward, i.e he may attempt to dispose of some or all of the claims against him.
In the meantime the parties are planning for discovery, seeking information from each other and third parties that could potentially help them progress or defend this lawsuit. The requests begin by seeking the type of information one might expect and then progress in an unexpected direction.
Plaintiffs' and Defendants' Discovery Demands
On the side of the studios, the anticipated initial demands seem standard enough. They want to seek third-party discovery from individuals or entities, who, along with Johnson, "allegedly own or operate the infringing services of AATV and Quality Restreams".
The defense anticipates discovery on the plaintiffs' ownership of the allegedly-infringed copyright works, their claims of infringement, and any investigation of the same.
Specifically, the defense seems keen to learn more about the Motion Picture Association's (MPA) involvement in the investigation, which may loop back to their earlier concerns (pdf) that key evidence provided by MPA anti-piracy chief Jan van Voorn was "biased" and "inaccurate".
Interestingly, the defense also seeks access to monetary judgments, settlement agreements, and other documents relating to payments received by the plaintiffs as a result of other copyright infringement lawsuits. Whether these will be handed over is unclear at this stage but given their sensitive nature, it seems unlikely they will appear in public filings. They would be interesting to read, however.
And That's Not All….
In addition to seeking details of any agreements between the plaintiff studios and the MPA, to our surprise (and presumably to the plaintiffs' too) this news publication suddenly gets thrown into the discovery mix.
For reasons best known to the defense, they say they will also seek access to "documents relating to Plaintiffs' and/or the Motion Pictures Association's relationship and involvement with https://torrentfreak.com."
Far be it from us to steal the thunder of the MPA and the world's leading movie and TV show companies, but any documents produced, if any, will be particularly unspectacular. Any communications with any of the above entities consist of requests for comment on news articles and their responses, if any.
We never seek comment or communication on IPTV, torrent or streaming-related lawsuits as the dockets speak for themselves. And as far as AATV and Quality Restreams is concerned, nobody has discussed anything with any of the plaintiffs or the MPA, at any point – ever.
That being said, we imagine the MPA being extremely flattered at the mere suggestion of having an intimate relationship with us but, after 17 years of absolute editorial independence, we really enjoy the freedoms of single life. We're both sorry and happy to disappoint.
Joking aside, it's interesting that our close reporting of publicly available, copyright-related lawsuits sometimes attracts attention from the parties involved, on both sides. The plaintiffs in a major music industry copyright lawsuit are currently keen to ensure that potential jurors aren't readers of this publication, for reasons unknown.
The joint report can be found here (pdf) and Area 51 can be found here