Last week The Pirate Bay's .SE domain name expired and, soon after, it was deactivated.
As a result, many people could no longer use their old bookmarks, which traditionally pointed them to the most recent domain of the notorious torrent site.
This appeared to mark the end of this historic domain but today it's clear that this is not the case. For the past few hours, Thepiratebay.se has been operating as usual again, directing visitors to the current .org domain.
A quick look at the Whois information shows that the domain has been reactivated and the registration updated to October next year. This means that it's safe, at least for a while.
Thepiratebay.se back in action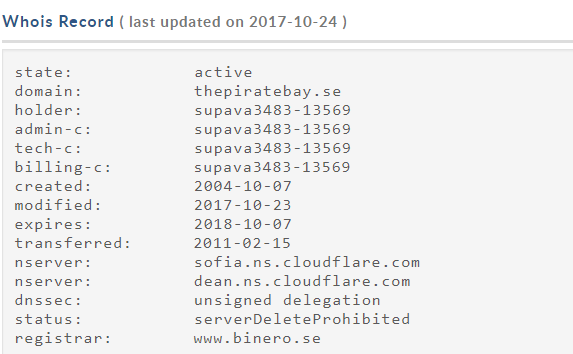 At the time of writing it's unclear whether the Pirate Bay listed the deactivation or if this was done on behalf of the Swedish Court of Appeal.
In 2013, a local anti-piracy group filed a motion to have it seized. This resulted in a lengthy legal battle where the Swedish Court of Appeal eventually ruled that The Pirate Bay's domain had to be confiscated and forfeited to the state.
The forfeiture has yet to take place, though, as the case is still pending at the Supreme Court. Because of this, the Pirate Bay's owners are not allowed to change the domain details, which may be why it expired initially.
However, without re-registering it, the domain would be released to the public again. This means that outsiders could pick it up, which isn't supposed to happen, and this is likely why it's now active again.
The Pirate Bay has yet to comment on the domain issue. When we hear from the team this article will be updated accordingly.