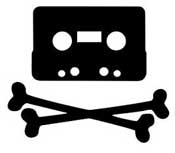 Last month a nine-member panel lead by former Canal Plus chairman Pierre Lescure produced a 700 page report advising on policies for advancing entertainment industries in the digital age.
After the realization that it had not been effective, one of the report's recommendations was to scrap the Hadopi agency, the body that currently administers the so-called "Three Strikes" anti-piracy system.
The conclusion was that although a reduction in illicit file-sharing on P2P networks such as BitTorrent had been achieved, there had also been an increase in use of other services, including streaming, over which Hadopi has no control. More importantly – crucially, one might argue, the panel concluded that the three strikes mechanism had failed to benefit authorized services as promised.
Syndicat National de l'édition Phonographique (SNEP), an industry anti-piracy group that championed the uptake of three strikes, has just produced its first quarter results for 2013 and they seem to back up the panel's findings. Somewhat predictably they show no halt to the slide in music sales.
In the first three months of the year the wholesale market for recorded music was worth 107.9 million euros in France, down 6.7% on the same period last year. Overall in 2012, sales fell 4.4%
In Q1 2013, physical sales (CDs etc) fell by 7.3% and for the first time ever digital sales (iTunes etc) were also hit – down 5.2%.
SNEP lays the blame for the decline in digital revenues at the feet of a label deal that expired in 2012 and a YouTube agreement with rights group SACEM that was suspended until the second quarter of 2013. Without these "unusual" issues digital revenues would have been stable, SNEP says, but stability will be disappointing when compared to the 12% growth enjoyed in 2012.
Stats on actual downloads show that the boom predicted by the industry once French Internet users began receiving their first, second and third strikes, has simply failed to appear.
While downloads of albums demonstrated a little growth – 1.9 million albums were bought in Q1 2013 compared to 1.8 million in Q1 2012 – the singles market is suffering. During the first quarter of 2013 the number of downloaded singles was down 21% on the same period last year – 10.7 million tracks versus 13.7 million in 2012.
Overall market share for digital content remained stable at 29%, versus a worldwide average of 35%.
So, with the market still in decline, what next for France? Well, evidently "three strikes" won't be missed. As highlighted by Numerama, France has actually experienced a greater reduction in sales than Germany (- 4.6%), Italy ( – 1.8%), the Netherlands (- 4.7%) and Great Britain (- 5.6%), none of which have a three strikes scheme.
Hopes are now being pinned on a series of automated fines of 60 euros each for those sharing content without permission, with increases applied to those who don't get the message. Why fines should be anymore successful than strikes is anyone's guess, but SNEP like the idea – as long as the fines are more punishing.
"Music producers clearly want the educational component but it must be accompanied by a sufficiently dissuasive sanction. A fine of 60 euros seems too low, it should be at least double!" says SNEP chairman, Guillaume Leblanc.