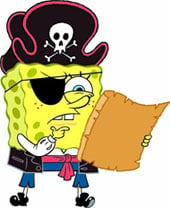 As recently as perhaps six years ago, there was no question over where the majority of Internet video pirates would be getting their online fix. Just as they had done for at least as many years before, BitTorrent was the go-to protocol.
While still massively popular today to the tune of scores of millions of daily users, torrent consumption has been tempered in recent years by the rise of streaming platforms. These sites, with their glossy indexes and YouTube-like interfaces, grant easy access to a wide range of movies and TV shows, almost as quickly as their torrent counterparts.
So why, when these streaming services are so easy to use, would anyone bother with relatively cumbersome torrent downloads? The answer isn't immediately obvious but for those with intimate experience of both, it's a pretty serious question.
First of all, we have the important question of content 'ownership'.
While people have easy access to the latest movies on streamingmovies123 or whatever .com, users never 'own' those streams. They are absolutely transient and once the stop button is pressed, that movie or TV show instance is gone forever. The user downloads the file of course, but it is almost immediately dumped into the ether.
For the same download bandwidth expenditure, the user can visit a torrent site and obtain exactly the same content. This time, however, there are two key differences. One, they help to distribute that content among other downloaders and two, they get to keep that content for as long as they choose.
Storing content locally is important to many pirates. Not only can that content be played on any device of the users' choosing, it can also be played offline. Sure, it takes up some drive space, but it doesn't require streamingmovies123 to stay online to be enjoyed. It can be played again, potentially forever, and certainly long after the streaming site has disappeared, which they often do.
But while maintaining control of content rarely has a downside for the consumer, the issue of whether distribution (uploading) via BitTorrent is 'good' depends on perspective.
Users of streaming sites will correctly argue that with no uploading, they are much safer than their torrenting counterparts. Torrent users, on the other hand, note that their participation in uploading helps to provide content to others. Torrent users are effectively a plus to the piracy ecosystem, while streamers (if we refer to them in torrent terms) are merely leechers.
There's a whole generation of streaming consumers coming through today who literally have no idea about the concept of sharing. They do not understand where the content comes from, nor do they care. This lack of 'pirate education' could eventually present a negative for content availability.
While we're on that topic, there's the important question of how and why pirated content travels through the online ecosystem.
There are long-established routes for content from so-called 'top sites' to be shifted quickly to torrent sites. Furthermore, torrent sites provide platforms for non-scene P2P releasers to distribute their offerings to the public. In this respect, torrent sites contribute much more to the overall piracy ecosystem than most streaming sites.
Also, there's the not inconsiderable issue of where streaming sites obtain their content. Of course, many people involved in that area of piracy will have either direct or indirect top-site access, but many simply choose to grab their content from either public or private torrents like the average user might. It's not hard to see who relies on who here.
This brings us to how each kind of piracy is perceived by Hollywood interests. It doesn't take Einstein to reveal that both torrents and streaming are the enemy, but since streaming platforms are closest to legitimate offerings such as Netflix and Amazon, the threat they pose is often portrayed as being the greatest.
Indeed, the rise of modified Kodi setups (and the aggressive response to them) seems to support that, with piracy shifting from the relatively geeky torrent environment to the point-and-click living room domain, occupied by the general public.
So the question of what is best – torrents or streaming – is largely down to consumer preference. However, for those with an interest in the piracy ecosystem, it's a question of whether streaming can improve or even survive without torrents, and whether exclusively supporting the former is a potential road to nowhere.