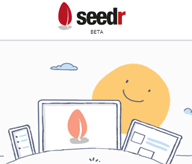 BitTorrent is a formidably popular tool. More than 170 million people regularly use the protocol to share files of all sizes, with the majority using desktop software clients such as uTorrent and popular crowd-pleaser qBitTorrent.
Nevertheless, alternatives are available. For many years more advanced BitTorrent users have been using so-called 'seedboxes'. These remote servers run torrent clients that allow people to share content away from their home machines. With expanded bandwidth at their disposal, sharing large quantities of data via seedbox is a breeze.
But while seedboxes aren't particularly difficult to operate or understand (most use a familiar interface), the majority are hidden behind a paywall. Although relatively inexpensive, this lack of exposure ensures that people interested in remote torrenting aren't exposed to the experience.
This is where Seedr steps in. Essentially a torrent client in the cloud, Seedr offers a free service to get people started and is ridiculously easy to operate.
On a basic level it's as simple as making an account (just an email address is required) and either dragging or uploading a torrent to the service. Seedr is also fully magnet link capable and can even find a torrent when supplied with just the URL of a page.
Seedr then does all the downloading and sharing itself without a single byte hitting the user's machine (great for those who want to get on with other things) and without any local IP addresses being exposed to a torrent swarm. This means the service helps to maintain user privacy too.
The Seedr interface

Once the download is complete (indicated by a basic progress bar) users can transfer the content to their own machine by hitting the download button while a right click reveals various other options.
In tests TF easily downloaded at a steady 25Mbps (even when limited by a VPN), meaning that a 1GB file took around five minutes to grab. Since downloads take place via HTTP, users can say goodbye to ISP throttling.
"Connections to the site are encrypted using SSL-256bit with strong ciphers, over HTTP/2 connections. All torrent traffic is done on our servers, and the identity of the users is never exposed. Security is up-to industry standards," admin David informs TF.
But Seedr can do more.
"Once on the cloud you just see and manage your files – you can play them, stream them or download them if you want," David says.
"There are many other small and cool features built into the system. For example, before you stream a movie you can seek for subtitles in any language and add them live. You can even sync them as you watch the movie."
Streaming with Seedr
Since it's browser-based, Seedr also works across devices – "anything but a sewing machine" according to David. Seedr also has a Chrome plug-in which enables users to add a download to Seedr in just two clicks – right-click on the link, left click on 'Add to Seedr'. Done.
"The entire system was built to provide smooth streaming without wait-times for conversions ( even on phones ), and fast download speeds to home computers. All servers are 1000mbit or faster, and tuned for torrent, and file download traffic," David says.
When attempting to stream to our Android test device there was an initial delay while the file converted but viewing was seamless after that. The black window that first appears needs to be tapped to reveal the playback controls.
Seedr collects anonymous data for bug fixes and the company says that all additional statistics are anonymized after 60 days. When users ask to have their accounts deleted, Seedr wipes their statistics along with the accounts within 48hrs.
Seedr offers a free tier and several packages for advanced users.
Free tier
– 2GB of free storage + more space for inviting friends
– Unlimited bandwidth, video playback support, high-speed downloads
– 1 parallel torrent download and 1:1 seeding ratio on public trackers
Premium
– 100GB-250GB of storage (1TB packages coming soon)
– Unlimited parallel downloads, HD streaming and API access
– 1:1 seeding ratio on public trackers
– Private trackers support with up to 5:1 or 5 days seeding ratio
In respect of copyright action, if Seedr receives a DMCA notice the company removes the offending torrent and advises the user. That is the end of the matter.
Overall
Easier to operate than uTorrent (by a long way), Seedr's beauty lies in its simplicity. It's hard to imagine anyone other than complete novices needing to revert to the site's tutorial. However, those that do won't be disappointed as it reveals ways to integrate the service into Kodi/XBMC.
Free tier aside (which is a steal) it's not cheap at $9.95 per month (two months free on annual rates) so the service might benefit from having a more limited lower-tier premium package around the $6 to $7 mark.
Those who obsess over the minutiae of their torrenting might prefer a full-blown seedbox experience, but Seedr knows its target audience and appears to serve them well.
Seedr can be tested here for free.