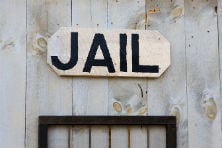 Whenever anti-piracy groups decide to take action against large file-sharing platforms, they do so on the basis of achieving crushing punishments for their operators. Only severe punishments can stop hardcore pirates, they argue.
In France, a similar situation has been playing out. Back in June 2015 following a four-month investigation, people connected to the public torrent site OMGTorrent were arrested and taken into custody. Early claims suggested the site had offered for download more than 10,000 pirated movies.
Founded in 2008, the site had built up a solid userbase of around 3.5 million visitors per month. Police insisted it was a for-profit project.
"The people behind this platform do not do it for fun, through the platform they earn a lot of money," a police spokesperson said at the time. "Even if they offer movies without requesting compensation, they earn money with various advertisements that appear alongside."
Searches of two suspects' homes yielded several computers plus more than 3.5 terabytes of the latest movies. A separate server found overseas contained several thousand more.
Police warned that the site's operators could face 10 years in jail plus millions in damages, but they weren't going to stop there. Their investigations had led them to four of the site's top downloaders who they intended to prosecute for receiving stolen goods.
After more than a year, six people connected with the site have now been sentenced and it's harsh punishments all round.
Following a hearing in March, yesterday the Criminal Court of Chalons-en-Champagne (Marne, France) sentenced the founder of OMGTorrent to one year in prison. The 28-year-old was also ordered to pay a fine of around five million euros for the unauthorized distribution of copyrighted works.
Also sentenced was a 38-year-old woman who had worked as a moderator on the site. She was given a four-month suspended sentence and told to pay damages to the plaintiffs in the case.
In an unusual turn of events, prosecutors also tracked down four of the site's most heavy downloaders. They too were given prison sentences of one month each and are required to settle with rightsholders.
Based on an investigation carried out by ALPA (Association Against Audiovisual Piracy), the prosecution estimated that damages exceed 20 million euros.
Following the decision, the site's founder posted an update to the Wareziens forum.
"I've been fined a total of 5,000,000 euros for financial damage, 12 months imprisonment and 4 more [months] from a former sentence. My mod has to pay approximately 1,000,000 euros for financial damage," he wrote.
"Others, those who have downloaded, I don't know the amount for them, but it far exceeds 500,000 euros. Note: They seized the servers and used them to get the IP addresses of the big downloaders of content."
Lashing out at those who hounded him, the admin said the judgment had really hurt. He said he understands why he needed to be punished but for those lower down the chain, the sentences were "beyond comprehension."
"To all the [anti-piracy groups and authorities]: You are a lot of vile shit, destroying lives of people who are already struggling to pay their rent, their food, their bills," he said.
"Why all this? Because they wanted to watch and because they didn't necessarily have the capabilities to buy a DVD / BluRay or go to the theaters."
Listing the country's most popular torrent indexes, trackers and DDL sites, the admin declared that they would never fall.
"Warez is a hydra, you cut off one head, 10 will grow back. You'll never kill this beautiful community. It's like drug dealers, it will never stop," he said.
Following the raid on OMGTorrent, an unknown third-party managed to secure the domain. The site is now working, as it did before, as a public torrent index.