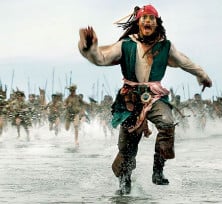 While relatively underreported, many U.S. district courts are still swamped with lawsuits against alleged film pirates.
One of the newcomers this year are the makers of the sports documentary Manny. Over the past few months "Manny Film" has filed 215 lawsuits across several districts.
Most cases are settled without of court, presumably for a few thousands dollars. However, if the alleged downloader fails to respond the damage can be much worse.
District Court Judge Darrin Gayles recently issued a default judgment (pdf) against Micheal Chang, a Florida man who stood accused of pirating a copy of "Manny."
Since Chang didn't respond to the allegations the Judge agreed with the filmmakers and ordered Chang to pay $30,000 in statutory damages. In addition he must pay attorneys' fees and costs bringing the total to $31,657.
While the damages are a heavy burden to bear for most, the filmmakers say that the defendant got off lightly. Manny Film argued that Chang was guilty of willful copyright infringement for which the damages can go up to $150,000 per work.
"Here, despite the fact of Defendant's willful infringement, Plaintiff only seeks an award of $30,000 per work in statutory damages," Manny Film wrote.
According to the filmmakers Chang's Internet connection was used to pirate over 2,400 files via BitTorrent in recent years, which they say proves that he willfully pirated their movie.
"…for nearly two years, Defendant infringed over 2,400 third-party works on BitTorrent. In addition to Plaintiff's film, Defendant downloaded scores of Hollywood films, including works such as Avatar and The Wolf of Wall Street."
It is unlikely that the court would have issued the same damages award if Chang had defended himself. Even in cases without representation several judges have shown reluctance to issue such severe punishments.
For example, last year U.S. District Court Judge Thomas Rice ruled that $30,000 in damages per shared film is excessive, referring to the Eighth Amendment which prohibits excessive fines as well as cruel and unusual punishments.
"This Court finds an award of $30,000 for each defendant would be an excessive punishment considering the seriousness of each Defendant's conduct and the sum of money at issue," Judge Rice wrote.
On the other hand, it could have been even worse. The damage award pales in comparison to some other default judgments. In Illinois three men had to pay $1.5 million each for sharing seven to ten movies using BitTorrent.
Controversy aside, Manny Film believes that they are certainly entitled to the $30,000. They have requested the same amount in other cases which are still pending, arguing that the actual lost revenue is even higher.