Last Friday we reported that a new round of piracy-related domain name seizures was likely being carried out by U.S. law enforcement.
Dozens of popular sports streaming sites became inaccessible, replaced by a seizure banner featuring seals of prominent law enforcement outfits.
The action was officially confirmed a few hours ago by the U.S. Attorney's Office for the District of Maryland. The Office explains that 55 separate websites were targeted for allegedly live-streaming games of the ongoing FIFA World Cup.
Illicit FIFA World Cup Streams
The authorities don't mention specific domain names, but we can confirm that several popular streaming sites with millions of visitors are affected, including hesgoal.com, 9goaltv.to, freestreams-live1.com, weakstreams.com, istream2watch.com and yalla-shoots.com.
These domain names have been taken over by the U.S. Government and visitors see a warning banner when they try to access them.
"This domain name has been seized by Homeland Security Investigations (HSI) pursuant to a warrant issued by the United States District Court for the District of Maryland, the banner reads, warning that offenders risk criminal prosecution.
The Seizure Banner
A FIFA representative referred the infringing domain names to the authorities in September. Homeland Security Agents in Maryland subsequently picked up the case and confirmed that the sites were indeed linked to infringing World Cup streams.
An affidavit, filed in support of the domain name seizures, explains that the sites exploit copyright-protected content to draw traffic. According to the U.S. Attorney's Office, the traffic is monetized through ads.
"Based on the pervasive use of advertising on each site, the affidavit alleges that the purpose for distributing the infringing content is the private financial gain to these websites' operators," Maryland U.S. Attorney's Office notes.
"By seizing the subject domain names the government prevents third parties from acquiring the name and using it to commit additional crimes, or from continuing to access the websites in their present forms."
Comebacks
The domain seizures undoubtedly have a major impact and some site operators may be deterred by the enforcement action. In recent days, however, we observed several of the targeted sports streaming services simply switching to new domains.
Weakstreams, for example, has moved to a new domain name at weakstream.net and remains accessible. The same is true for Streamtowatch, Freestreams-live1, and Hesgoal.
Interestingly, the new Hesgoal.me domain name put up a message that it will no longer stream UEFA matches because it respects the rights of copyright holders. Whether that also applies to FIFA is unclear.
Freestreams-live1, meanwhile, mentions that the site "had some issues" without referring to the domain seizure at all.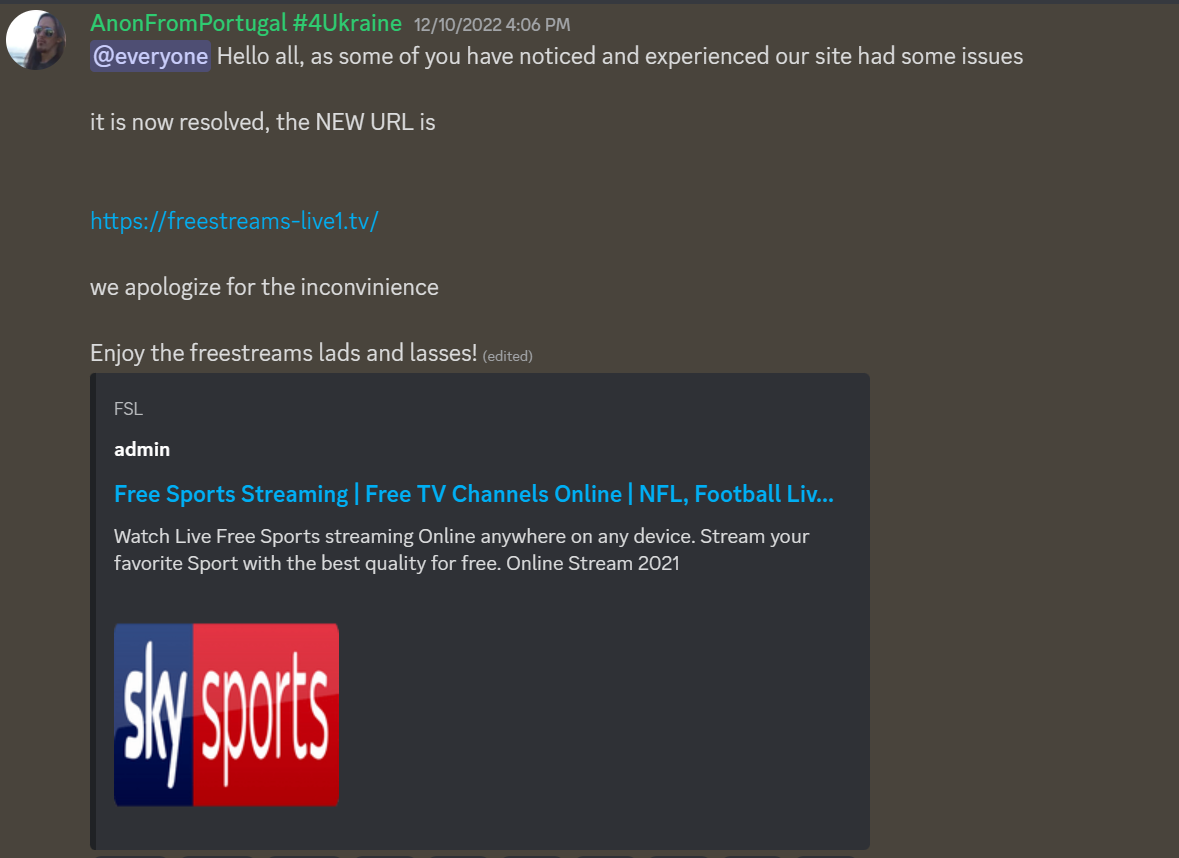 Seizures Will Continue
Whether these new domains will be around for long remains a question. Homeland Security Investigations (HSI) says that it will continue to target pirate sites going forward.
"HSI will continue to focus on removing websites that facilitate digital piracy, and other intellectual property violations, from the internet," said Special Agent in Charge James C. Harris III of HSI Baltimore.
"While many may believe that such websites do not constitute serious threats, the infringement upon rights holders of any intellectual property is a growing threat to our economic viability."
The HSI agent adds that these pirate sites can be conduits for other criminal activity, but arrests or forthcoming indictments have not been mentioned.
Rojadirecta
This isn't the first US crackdown on sports streaming sites. Since 2010, US authorities have seized several of these portals under the flag of "Operation In Our Sites."
These early seizures also targeted Rojadirecta, which eventually managed to get its domain name back after a legal protest.
Interestingly, the most recent round of domain seizures also includes several Rojadiracta-branded domain names such as rojadirectatvlive.com. It's not clear whether these are linked to the original Rojadirecta. In any case, getting them back now may not be easy.
—
A list of all affected domain names that we're aware of is posted below. This may be updated in the future.
– tvrojadirectaonline.net
– toplivematch.net
– live-sports-stream.net
– 88zhibo.net
– 247football.net
– crichd.pro
– rojadirecta-futbol.live
– mythethao.live
– ghiban1.live
– bongtron1.live
– polysportstv.info
– eplsite.football
– yalla-shoots.com
– weakstreams.com
– tructiep99.com
– toplivematch.com
– tarjetarojaonlinetv.com
– soccer24hd.com
– score808.com
– rojadirectatvlive.com
– rojadirectaliga.com
– mythethao.com
– koragol.com
– juventus-live-stream.com
– istream2watch.com
– ijube.com
– hesgoal.com
– guduballs.com
– ghiban2.com
– freestreams-live1.com
– cado89.com
– beeduball.com
– amzfootball.com
– acrackstreams.com
– 222live.com
– 9goal.tv
– 9goaltv.to
– rojadirecta.vip