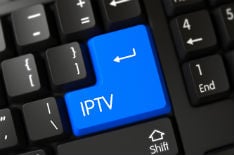 While the TV licensing system in the UK is viewed as an unpopular tax by many citizens, millions hand over money every year in order to receive broadcasts into their homes.
For the sum of £154.50 for a color TV license and £52 for a black and white equivalent, residents can potentially obtain access to dozens of channels via satellite (Freesat) or antenna (Freeview), none of which come with a subscription charge. In fact, those who don't pay the license fee can still receive them, just not entirely legally.
Of course, those subscribing to a 'pirate' IPTV provider gain access to thousands of channels, including all the premium channels that would otherwise add hundreds of pounds of costs to the average bill.
There's no doubt that gaining access to Sky's premium offerings for next to nothing is an attractive proposition for customers. However, a UK-based IPTV provider informs TorrentFreak that these aren't always the most popular channels with his subscribers.
Perhaps surprisingly, when looking at the Top 10 most-watched channels on the service, BBC One, BBC Two, ITV, Channel 4 and Channel 5 all get a prominent position. Every single one is not only available for free (license permitting) via satellite or antenna but also available via the Internet for UK residents.
TF was able to review data from the IPTV provider's panel which listed the service's most popular streams from a few weeks ago. It showed that the most-viewed channel was ITV HD with just over 16%, with BBC1 HD in second place with close to 13%. National Geographic, a non-free to air channel, sat in third with just under 10%, closely followed by free to air Channel 4 HD.
Of the top 12 most popular channels listed in a provided chart, six are already free to air – ITV, BBC1 One, Channel 4, BBC Two, 4seven, Channel 5, ITV2, E4, Quest Red, and Quest. So why the inflated interest in channels already covered by a TV license and free-to-air?
The IPTV provider said it polled some customers, with a number of interesting reasons reportedly coming up, most of which appear to center around service-related issues. Firstly, and perhaps unsurprisingly, users of Freeview complained about not being able to get a good enough signal.
The digital Freeview service is supposedly available to 98% of the population but anecdotal evidence suggests that many are left with a poor signal, a reduced channel offering, picture break up, or not being able to receive the service at all.
Freesat (satellite) users can usually overcome most of these issues but many televisions don't come with an appropriate tuner and in all cases, an external satellite dish must be installed, which presents another barrier to entry.
IPTV services, on the other hand, require a broadband connection and a cheap subscription, no external equipment (satellite dishes, antenna, or tuners) required.
It could be countered that several of the main BBC channels can be acquired via the Internet using the BBC iPlayer, which unquestionably provides a first-class service. However, online offerings from ITV (ITV Hub), Channel 4 (All 4), and Channel 5 (My5) only come in SD quality and in some cases, that's a best-case scenario.
Most of the rest of the channels in the 'free' range (outside the regular TV license fee) have no online offer at all but an IPTV service can provide them all, in most cases in HD quality.
Only adding to the hassle of going legal is the fact that most if not all of the above channels' online offerings now require registration, meaning that users have to have accounts with them all to receive them on a TV. On the other side, a subscription with an IPTV provider requires a single sign-up.
According to the provider, users don't like to have accounts with all of these different official suppliers and they don't enjoy the low-quality images on offer from their online portals, even if they are free to access. They also prefer the flexibility of being able to watch channels on any device they like, rather than being restricted to the platforms supported by various providers.
A UK user with experience of all of the systems above confirmed that while having Freeview or Freesat is a nice option, switching from app to app to receive other channels on various devices is a sub-standard experience when compared to that offered by unlicensed providers. He also questioned whether "any harm was being done" to the legitimate providers by accessing their channels from an IPTV provider.
"I pay my license for the BBC and I don't use up any of their Internet [bandwidth]. I watch all the adverts on everything else same as everyone. Where's the negative, I don't see any?" he said.
In common with the provider we spoke with, the TV viewer pointed out that having everything in one place (a single IPTV subscription) is much more convenient than having to switch around various sources, even if that means paying a few pounds per month.
So while some people clearly latch on to unlicensed IPTV subscriptions for premium content usually offered by companies such as Sky, it seems that at least, in this case, convenience is also playing a big factor.