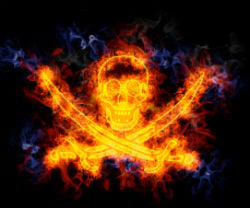 Yesterday morning, TorrentFreak began receiving reports from multiple sources that something big was happening in the shadowy world of top-tier piracy known as 'The Scene'.
From the volumes of information received, the majority of sources indicated that many so-called 'topsites' and their members had disappeared or gone into hiding. The word was that several major movie release groups – SPARKS, GECKOS and DRONES – had been targeted in a series of raids and as a result, people were running for cover.
Precisely where these raids or actions took place still isn't entirely clear. Multiple sources point to the Nordic region, particularly Norway and Sweden, but reports of disruption and/or action in the Netherlands and even Switzerland persisted across our confidential sources, all of whom demand anonymity.
Importantly, one name kept cropping up – 'Artist' – someone who was identified by at least two individuals with inside knowledge as a central figure, not only in The Scene but also in the action that appeared to unfold yesterday. The reality, it now transpires, is that the events of Tuesday had their roots in an investigation that started months – maybe even years ago.
US Govt Legal Action Launched in January 2020 – George Bridi
On January 8, 2020, an indictment in the case United States v. BRIDI was filed and sealed in a New York district court. Yesterday, as the action in Europe was unfolding, Magistrate Judge Debra C. Freeman ordered the indictment to be unsealed, shining significant light on the events of Tuesday.
The indictment and Grand Jury charges target George Bridi, a British national who, according to the US Government, resided in the Isle of Wight, a small island off the south coast of England. Bridi is identified, along with others "known and unknown", as a member of a criminal conspiracy, aka release group SPARKS and its affiliates.
His Scene nickname, if he has one, is not listed in the available documents. Nevertheless, the US Government claims to know much about his activities.
"The primary objective of the Sparks Group was to fraudulently obtain DVDs and Blu-Ray discs for copyrighted movies and television shows prior to their retail release date, compromise the copyright protections on the discs, reproduce and upload the copyrighted content to servers controlled by the Sparks Group, and disseminate the copyrighted content on the Internet for public consumption before the DVDs and Blu-Ray discs were made available for sale by retailers to the public," Bridi's indictment reads.
The 'conspiracy', at least in the case of Bridi, was alleged to taken place from around 2011 until January 2020. It's claimed that members of SPARKS made various "material misrepresentations and omissions" to wholesale distributors in Manhattan, Brooklyn, and New Jersey in order to obtain copies of DVDs and Blu-Ray discs prior to their official release.
The indictment indicates that Bridi was also involved in obtaining and reproducing TV show content.
Once obtained, members of SPARKS allegedly used specialist software to "rip" the discs in order to remove their copyright protections and then encoded the content into a format easily consumed via the Internet. This content was then uploaded to servers controlled by SPARKS members, from where it's alleged other members further distributed the content to streaming sites, torrent networks and other servers.
Adding to the information received yesterday by TF indicating that SPARKS, GECKOS and DRONES were central to Tuesday's turmoil, the indictment adds two other release groups to the list – ROVERS and SPRINTER – both claimed to be part of the 'Sparks Conspiracy'.
Bridi is charged with conspiracy to commit copyright infringement, conspiracy to commit wire fraud, and conspiracy to transport stolen property interstate.
Superseding Indictment – Umar Ahmad, aka 'Artist'
In addition to information received early yesterday by TF, with multiple sources referencing someone called 'Artist' involved in a central role, unsealed court documents now put more flesh on the bones.
Identified by the US Government as Oslo, Norway, resident 'Umar Ahmad', it's alleged that from around 2011 up to January 2020, 'Artist' was also a member of the 'Sparks Conspiracy'.
In common with Bridi, he is alleged to have caused "tens of millions of dollars" in losses to film production studios by being part of the SPARKS group that obtained physical discs from wholesale distribution companies, ripped and encoded them, and placed the content on the Internet for public consumption.
Along with Bridi, he faces charges of conspiracy to commit criminal copyright infringement but charges of wire fraud and transporting stolen property are absent.
Superseding Indictment – Jonatan Correa, aka 'Raid'
Like Bridi and Ahmad, it's alleged that Correa was involved in the 'Sparks Conspiracy' from around 2011 but his involvement is said to have stretched beyond the January 2020 dates listed in their Grand Jury charges by several months, to August 2020.
For reasons that aren't yet entirely clear, he appears to have carried on his alleged criminal activity until this month, unlike his peers who are only charged with offenses up to the first month of 2020.
Correa's charges read very much like Bridi's and Ahmad's, in that he stands accused of being part of the 'Sparks Conspiracy' that unlawfully obtained, ripped, encoded and uploaded video content to the Internet, including to various servers, streaming and torrent sites, all in advance of their official street date.
"On numerous occasions between in or around 2011 and in or around May 2020 , a co-conspirator not named herein fraudulently arranged for discs containing copyrighted films and television shows to be picked up, mailed, or delivered from distributors located in Manhattan, Brooklyn, New Jersey, and British Columbia, Canada to other members of the Sparks Group, including JONATAN CORREA, a/k/a 'Raid,' the defendant, prior to their official release date…," Correa's indictment reads.
It's further alleged that around 2011 and in or around May 2020, Correa "remotely accessed" a computer located in Westchester County and belonging to another unnamed co-conspirator, in order to "illegally record and reproduce" copyrighted TV shows.
While Bridi and Ahmad's locations are revealed in court documents, Correa's currently remains unknown. Like Bridi, he faces charges of conspiracy to commit criminal copyright infringement but in common with Ahmad, charges of wire fraud and transporting stolen property are absent.
Supporting Reports and Information
TorrentFreak is currently liaising with a number of sources who for security reasons are demanding anonymity. However, it appears that the information detailed thus far is just the tip of a large iceberg that has much of The Scene in turmoil and/or in hiding.
What we can say at this point is that the mention of Umar Ahmad, aka 'Artist', is causing considerable concern because of his alleged reach in The Scene that seems to go well beyond SPARKS and its affiliated groups.
We'll have more on this in a follow-up report (update:published here) but in the meantime the US court documents can be found here (1,2,3 pdf)
Update: The US Department of Justice has just revealed some additional information.
Bridi, 50, was arrested on Sunday in Cyprus on an INTERPOL Red Notice. Correa, 36, was arrested yesterday in Olathe, Kansas, where he will appear in federal court. Ahmad, 39, was not arrested and is still at large.
"In coordination with law enforcement authorities in 18 other countries and supported by Eurojust and Europol, dozens of servers controlled by the Sparks Group were taken offline today around the world, including in North America, Europe, and Asia. The Sparks Group utilized these servers to illegally store and disseminate copyrighted content to members around the globe," the statement adds.