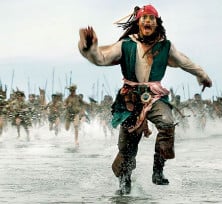 Since the turn of the last decade, numerous people have been accused in US courts of illegal file-sharing.
Initially, these lawsuits targeted hundreds or thousands of BitTorrent users per case, but this practice has since been rooted out. Now, most file-sharing cases target a single person, up to a dozen or two at most.
This means that the number of "Doe" defendants have gone down, but the same can't be said for the number of cases that are on the dockets. In fact, the number of file-sharing cases filed last year was higher than ever.
Data collected by TorrentFreak from court records all over the country show that in the first half of the year, more than 3,300 separate lawsuits were filed. The majority of these cases list a single 'John Doe' defendant.
This is more than triple the number of lawsuits in the year before, when 1,019 file-sharing cases were filed according to Lex Machina. And it's also more than the old 2,887 record that was set in 2015.
Pretty much all of this activity can be attributed to two adult industry companies – Malibu Media and Strike 3 Holdings.
Malibu Media, the Los Angeles based company behind the 'X-Art' adult movies, has been one of the most active copyright trolls for years. According to data from court records, it filed 1,231 cases in 2018.
The most active filer last year, Strike 3 Holdings, is a relative newcomer. The company, which distributes its adult videos via the Blacked, Tushy, and Vixen websites, has filed 2,092 cases over the past twelve months.
Some of Strike 3's recent cases
Strike 3's cases are similar to those filed by Malibu Media. This is no surprise since they are handled by former Malibu lawyer Emilie Kennedy, who now works as in-house counsel at Strike 3.
Together, both companies are good for more than 3,300 new cases last year. In terms of numbers, there's a gaping hole behind these two, with Bodyguard Productions coming in third place with 70 cases.
To the best of our knowledge, those three are the only filers of lawsuits that targeted alleged BitTorrent pirates last year.
With thousands of new cases, these companies are good for more than half of all copyright lawsuits in the US. According to Justia, there were a little over 6,000 cases in total.
This wave of file-sharing legal action is something that hasn't gone unnoticed to courts around the country, some of which have become more skeptical.
A high-profile order at the Ninth Circuit Court of Appeals a few months ago proves to be a particularly significant roadblock. Referencing the decision, federal courts in districts across the US are now demanding "something more" than an IP-address alone.
For now, however, new lawsuits continue to be filed, also in 2019. In the months to come the wider impact of the appeal court ruling will be felt and whether this will affect the number of new cases this year.