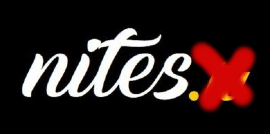 If there's one thing that movie and TV show companies hate more than regular pirate streaming services, it's pirate streaming services that look and feel like the real deal.
Popcorn Time was arguably the first mainstream entrant to this niche but, over the past six years, there have been many pretenders to the throne. Nites.tv certainly fell into that category and then some.
Appearing seemingly out of nowhere just a few short months ago, Nites.tv gained significant traction with an unusually polished interface that in presentation terms certainly gave Netflix a run for its money. But then, just as the site was beginning to soar, a major setback became apparent.
Around April 19, Nites.tv suddenly disappeared and was replaced by the familiar 'seizure' notice of the Alliance for Creativity and Entertainment (ACE), the global anti-piracy coalition that has taken down dozens of piracy-related domains during the past couple of years.
Two days later Nites.tv made an announcement via Twitter, declaring that since it took "copyright violations very seriously" and intended to "vigorously protect the rights of legal copyright owners", it would be shutting down. By early May the circle was complete when its domains were officially taken over by the Motion Picture Association (MPA).
At that point, it seemed unlikely that we would be writing about Nites again. But, today, we have news that can be firmly filed under the "ACE isn't going to like this" category.
Nites.tv appears to be back in full effect under a new domain, Nites.is, and as the image below shows, the reincarnation is indistinguishable from the original.
The new Nites.is domain was registered on April 23, just days after the original domain first displayed signs of conflict with the dozens of entertainment industry giants that make up ACE. It was registered with Pirate Bay co-founder Peter Sunde's Njalla privacy service, meaning that it won't be easy to find out who is behind it, a big plus for whoever's at the helm.
There's little doubt that ACE will now seek to take the site down and there is no shortage of reasons for that. Putting the obvious embarrassment aside for a moment, with its tight interface, video previews, and even a Netflix-like "+MY LIST" feature, Nites.is is an unusually glossy platform with a number of interesting features behind the scenes.
Aside from streaming the latest movies and TV shows from direct hosting sources in both 720 and 1080 qualities, the site provides movie trailers for those undecided on what to watch next and even provides torrent download links culled from popular torrent index YTS. It also has other BitTorrent technologies quietly waiting under the hood including Webtorrent tracker OpenWebTorrent and Webtorrent client βtorrent.
The only thing the new site doesn't have at the moment is a new logo but the text "Nites is Back" on some open tabs is a clear statement that Nites.is aims to pick up where Nites.tv left off.
The big question now, however, is how long it will last.