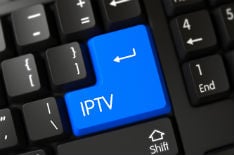 DISH Network, Sling TV and technology partner Nagrastar are keeping their feet firmly on the gas in their mission to disrupt pirate IPTV services.
Last month the companies won a $100m judgment against the former operators of pirate IPTV service Nitro TV. It comes as no surprise to see another lawsuit filed in the United States against a service with alleged connections to Nitro.
Lawsuit Targets VNest TV
The companies' latest anti-piracy lawsuit was filed in a Nevada court. It targets Las Vegas company Ventura's Nest LLC and its alleged sole manager, Las Vegas resident Santina Fulton.
The plaintiffs claim that Fulton is behind a pirate IPTV service called VNest TV. Also known as VNest IPTV, the service was sold through a number of domains including vnestiptv.com and venturasnest.com. DISH believes that Fulton registered the domains, something borne out by historical WHOIS records.
"Defendants advertised VNest TV as a subscription-based service providing more than 5,000 channels, movies, sports programs, and other premium content, all for a low monthly fee," the complaint reads.
"According to Defendants, VNest TV offers 'the best content and up time than anyone else in the business.' VNest TV advertising emphasized converting customers from legitimate cable or satellite services, such as those provided by DISH, by encouraging customers to 'cut the cord'."
VNest's sites were offline after the complaint was filed but archived copies show that monthly subscription packages were available for $20. A one-year subscription cost $180.
VNest TV Was Told to Shut Down But Warning Was Ignored
The plaintiffs say that at least in part, VNest TV was fueled by unlicensed streams captured from DISH Network's satellite broadcasts and content obtained directly from servers controlled by partner Sling TV. Some of these channels ('numerous' according to the complaint) were sourced from Nitro TV, the pirate IPTV platform that owes DISH more than $100 million in damages related to its own rebroadcasting scheme.
Identifying Fulton as the operator of VNest TV doesn't appear to have been difficult. As the image below shows, investigators for the plaintiffs signed up for the service and made two test payments, one through PayPal and another through Venmo. When information from the payment receipts is combined, there's enough to show company and personal names plus connections to social media accounts.
Despite VNest TV's operator being terribly exposed, at least one cease-and-desist notification sent by the plaintiffs went ignored. The complaint notes that the defendants were notified that their service violated federal laws as early as October 2021 but the platform continued to operate.
Plaintiffs Seek Damages and Injunction
The allegations of infringement in the complaint are based on violations of the Federal Communications Act (content sourced from DISH satellite broadcasts) and the Digital Millenium Copyright Act (content obtained from Sling's servers).
In respect of the former, DISH says that VNest TV violated 47 U.S. Code § 605(a) by accessing unauthorized communications willfully and for commercial advantage. They also willfully sold access to those communications, in violation of 47 U.S.C. § 605(e)(4).
The plaintiffs also allege breaches of the DMCA's anti-circumvention measures under 17 U.S.C. § 1201(a)(2)). The complaint notes that Sling's content is protected by DRM technologies including Google's Widevine DRM, Apple's FairPlay DRM, and Microsoft's PlayReady DRM, so the plaintiffs' are entitled to claim damages.
It's impossible to state with any accuracy how much the plaintiffs might be entitled to but in cases of willful violations of the FCA, every violation can reach $110,000. The DMCA-related offenses top out at $2,500 in statutory damages each so when combined, the damages claim could easily reach double-digit millions.
In the meantime, DISH, Sling and Nagrastar are seeking an injunction plus an order requiring VNest TV to hand over all domains and business records.
The complaint can be found here (pdf)