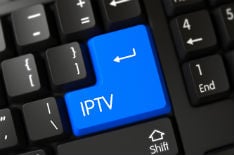 As the battle against pirate IPTV services continues, beIN Media Group today announced early success in new legal action.
The sports broadcaster says that after filing an application for an emergency injunction in Tunisia, local electronics retailer MyTek is no longer allowed to sell IPTV products carrying pirated beIN channels. The injunction is temporary, pending a full hearing on the merits of the case.
According to beIN, more than 80% of consumers in Tunisia use pirate IPTV services to watch live sports and other TV channels. Given the extraordinary deals available, it's not difficult to see why.
IPTV Subscriptions on Open Sale
At the time of writing, subscription listings on MyTek's website are yet to be suspended. The website team probably needs a little more time to make the changes so, in the meantime, we did a little virtual shopping to see why beIN sees this retailer as a threat.
As far as 12-month packages go, MyTek offers at least two, branded as Global IPTV and TIVOSAT. The price listed for the former is 25,000 TND, which initially sounds like a lot.
However, the Tunisian dinar uses a comma to indicate the decimal place, so the last three digits can be discarded. In short, a full subscription package costs 25 dinars and that converts to less than $8.00 – for a 12-month subscription.
People without a compatible device can buy an Android set-top box for 89 dinars and MyTek will throw in a 12-month IPTV package free of charge. Grand total: $27.80.
People who pay $5 or $10 per month in the United States usually recognize a good deal when they see one, but this is on a whole new level of cheap that seems barely believable. When compared to an official beIN subscription, it's easy to see why beIN wants this stopped and why users on this local Arabic forum think it should continue.
MyTek Also Offers beIN Packages – But Does Anybody Buy Them?
For those who prefer not to go down the illegal route, official beIN subscription packages are also available via the MyTek website. For 189 dinars – just short of $59.00 – Tunisians can watch beIN for three uninterrupted months.
If that's not long enough, 359 dinars ($112) buys six months of beIN service and 699 dinars ($217) buys a whole year. To counter this deal, MyTek offers a Max IPTV subscription that costs less than 30 dinars (just over $9.00) but lasts 18 months.
These listings will probably disappear in the coming hours or days but MyTek has work to do. When the company sells a Samsung Galaxy M52, it also throws in a free IPTV subscription. The same holds true for this 50″ Smart TV and many other similar products.