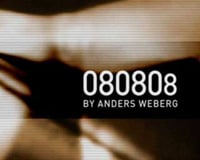 Swedish artist and filmmaker Anders Weberg has exhibited his work at various art festivals, galleries and museums throughout the world. Unusually, however, he is also producing art on filesharing networks.
Since 2006, Anders has been running the website P2P-art, where he announces films that will be available as long as they are shared. All the original footage is deleted and the films are made available exclusively on filesharing networks, for as long as there are people who continue to share them. Today, Anders has released his latest production, 080808, an 8 hour 8 minute and 8 seconds long audio-visual excursion.
"I chose 080808 as a symbolic action for the right to freely spread and share information over the Internet," Anders Weberg told TorrentFreak. "The net is supposed to be free but that's not the case in all the countries around the world, including China, the country hosting the Olympic Games starting today – 080808."
080808 is not the first film Anders has released this way. Back in 2006 he released "Filter", followed by "Transient" in 2007, and "Emphasis" earlier this year. All the films exist only on filesharing networks, and the files Anders used to produce the films are all deleted, "There is no original".
"The other films I released are still alive and seeded," Anders tell us. "Even the first one that I released in 2006. I wasn't expecting that when I started. Not many seeds though, so they will eventually just fade away completely and that's when the project really is fulfilled for me."
080808 will can be found on a BitTorrent tracker near you starting today. "Feel free to download the film, watch it and share it for as long as you like. Or delete it immediately."